Vesicocolic Fistula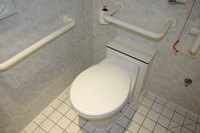 A fistula is an abnormal connection between two body cavities. A vesicocolic fistula means that a connection has formed between the urinary bladder and the colon. Sometimes an edema, an accumulation of fluid beneath the skin, can form on the base of the bladder. When air bubbles are released from the middle of the edema, they can show up in the urine. This could be a symptom of Crohn's disease, a tumor, or it may not need treatment at all. Only a doctor or urologist will be able to tell for sure.
Urinary Tract Infection
Bubbles in your urine stream could also be caused by a urinary tract infection produced by a gas-forming organism. This usually only occurs in people with diabetes. But if you're aging and haven't been diagnosed with diabetes, that doesn't mean you don't have it. Speak with your doctor.
Foamy Urine
Sometimes people perceive foamy urine as "bubbles in urine." This may not mean anything if it only happens once in awhile, and doesn't seem to be getting progressively worse. It could just be from urinating rapidly, which can come from dehydration. Drink plenty of water for awhile and see if it goes away. If it doesn't go away, then it could be a sign of protein in your urine (proteinuria), which may indicate a kidney infection. It's best to see your doctor if you're concerned.
Proteinuria
There's almost always some trace of protein present in urine. But when too much of it is found, it could be proteinuria. There are vessels in the kidneys that filter water and waste, but still keep protein and red blood cells in the bloodstream. When these vessels, called glomeruli, are damaged or inflamed, they allow for the passage of too much protein. When the excessive amount of protein reacts with the air when you urinate, it hits the water and produces a foamy urine.