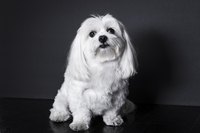 If you have rodenticides anywhere in your home, it's crucial for you to keep them out of your dog's reach at all times. Rat poison is toxic and sometimes deadly to canines. Rat poison products are often made specifically to entice rodents, and dogs are drawn to them because of their scent, their placement and their appearance.
Toxicity of Anticoagulant Rodenticides
The majority of rodenticides employed in the United States are classified as anticoagulants, substances that aim to stop blood coagulation. Anticoagulants disrupt bodies' capacities to establish blood clots. As a result, they can bring upon deadly bleeding in animals. Since anticoagulant rodenticides are very appetizing to domestic animals such as dogs, they can pose major -- and sometimes fatal -- threats to them. Dogs are frequently vulnerable to rat poisoning because they often are not very picky about what they consume.
Common Symptoms of Anticoagulant Rodenticides
If a dog has ingested rat poison, you might notice breathing problems, decreased energy levels, vomiting and bloody vomit, bloody stool, reduced appetite, bloody urine, feebleness, pale tongue, pale gums, bleeding gums, nosebleeds and bruising. When dogs pass away from anticoagulant rodenticide toxicity, it's usually due to bleeding that travels to their chest cavities. Anticoagulant poisoning symptoms typically involve anemia that results from loss of blood.
Rat Poison and the Nervous System
Not all rat poisons available in the United States are anticoagulants. Bromethalin is a non-anticoagulant rodenticide. If your pet experiences poisoning from bromethalin, it could bring upon central nervous system depression. If your dog ingests this type of rat poison, you could notice symptoms within a time frame of 10 hours or so, or you could notice symptoms a few days after ingestion. If your pet consumed a significant amount of bromethalin, potential symptoms include tremors, hyperexcitability and seizures. Death is also a possibility. If your pet consumed a lower amount of the non-anticoagulant, you could notice symptoms such as throwing up, appetite loss, paralysis and tremors. Lesser amounts can be life-threatening to dogs, as well.
Veterinary Care and Treatment
If you have any reason to think that your dog ingested any kind of rat poison, anticoagulant or otherwise, take him to the veterinarian as soon as possible. Swift treatment could mean the difference between life and death.
Dogs who experience anticoagulant toxicity are often treated with vitamin K injections. Blood infusion treatment is common. Dogs who experience bromethalin toxicosis often require urgent digestive-tract decontamination. Vets sometimes accomplish this by inducing vomiting and administering activated charcoal. When you take your pet to the veterinarian, explain clearly what specific type of rat poisoning he ingested. Different kinds of poisoning call different treatments.