Cameron Whitman/iStock/Getty Images
You see glass everywhere in modern life, from windows in buildings and cars to dishes on your table. Glass acts as the screen in many computer monitors and televisions. Artists even form glass into pieces of art. Yet the first type of glass, natural glass, occurred randomly as a byproduct of lightning strikes, volcanic eruptions and fallen meteorites. Man-made glass requires a unique set of components: sand, limestone and soda ash. They must be heated to a molten state and then cooled quickly, before the material crystallizes. The modern process of manufacturing glass follows these basic principles with a healthy dose of mechanical assistance. While glass production employs several methods, the flat-glass float method represents approximately 85 percent of glass production worldwide, according to the Pilkington Company. This glass manufacturer reports that Sir Alistair Pilkington developed the modern float process in 1952.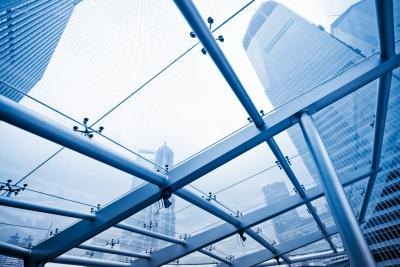 shansekala/iStock/Getty Images
Standard float glass ingredients include sand, soda ash, dolomite, alumina, limestone and a small percentage of other materials, according to Tangram Technology. These components are measured, mixed and then fed into a furnace. The furnace, typically gas-powered, heats the components to approximately 1000 degrees Celsius, converting them into molten glass. A conveyer then feeds the molten glass onto a float bath—the real key to the flat glass process.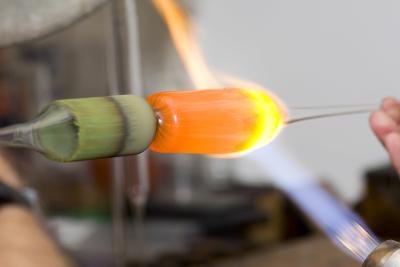 Richard Schmidt-Zuper/iStock/Getty Images
In the float bath, molten glass floats on a bath of melted tin. Rather than sinking, the glass spreads out and sits on top of the tin, just as oil sits on top of water. This gives the glass a uniform density and generates perfectly flat surfaces. The conveyer next pulls the glass along toward the annealing lehr. This conveyer process also assists in generating uniform density and the desired thickness.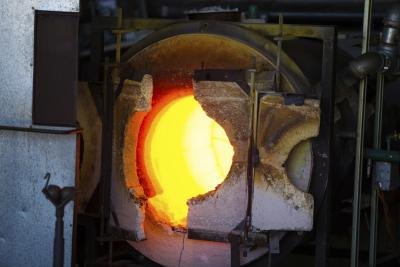 joshuaraineyphotography/iStock/Getty Images
The glass cools to approximately 600 degrees Celsius by the time it actually enters the annealing lehr, a kiln with precisely controlled temperatures. Inside the lehr, the glass undergoes a controlled cooling process. By the time it leaves the annealing lehr, the glass has solidified. Manufacturers usually inspect glass as it leaves the lehr and before it's cut. Substandard or flawed glass will be removed from the conveyer. It's frequently broken up and reused as raw material. Sheets of glass that meet quality-control standards will be cut and shipped.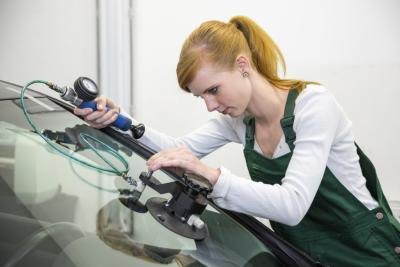 Ikonoklast_Fotografie/iStock/Getty Images
Promoted By Zergnet