A colony of Otodectes cynotis makes your cat's ears itchy, inflamed and vulnerable to infections. Ear mites are no fun for your kitty, and pose a legitimate health risk if left untreated. Ear mites are one of the most common external parasites in domestic felines, meaning cat owners should expect to encounter these tiny parasites at least once during their furry friend's life. The mites are highly contagious between animals, but are not a significant health risk for people.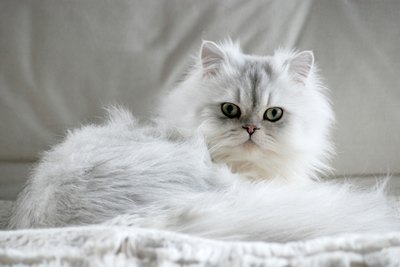 Mite Life Cycle
Ear mite populations increase rapidly because they can go through their entire life cycle without leaving their host. The microscopic eggs hatch into larva with a few days of being laid. The larva undergoes progressive transformation through several nymph stages before reaching adulthood. The entire process only takes a few weeks to complete; adults can survive up to a month after reaching maturity. Male mites can be distinguished from females by their smaller size and the protrusion of two appendages from the posterior. Adult mites are less than 1/100th of an inch long, meaning they are difficult to spot.
Mode of Transmission
Ear mites lack the ability to jump or fly, but are extremely contagious and spread quickly through close contact. Your cat can pick up a case of ear mites if he fights, plays or sleeps with a mite-ridden cat. Infested animals can fling them from their body as they scratch or shake their head to relieve irritation. Cats living in shelters, pet stores and other communal housing are at the greatest risk. The parasites readily spread between cats, dogs and other mammals if given the chance. Mites rarely establish themselves on humans.
Warning Signs
If one of your pets has ear mites, there's a good chance that they all do. Check around their ears for scabs, discharge and damage caused by scratching. Mites chew at the soft lining of the ear, which causes dark wax to accumulate visibly inside the ear. These parasites can be found elsewhere on your pet's body, although they are naturally drawn to the dark, moist and protected skin inside the ears.
Preventing Infestation
Routine applications of certain antiparasite ointments, such as moxidectin or selamectin, can stop mites from establishing themselves on your cat. Regularly cleaning your cat's ears helps to prevent infection and gives you the chance to look for early signs of mite infestation. Consult a veterinarian if you believe your pet has contracted ear mites. Prompt treatment helps your kitty avoid the dangerous complications that arise when secondary infections set in.