Headache
Mold in your home or workspace can trigger headaches by releasing allergens into the air, and repeated exposure to these tiny spores can cause respiratory conditions such as chronic sinus infections and rhinitis. Stachybotrys atra is perhaps the best-known variety. This black mold with a green tint is commonly called "toxic mold," and along with aspergillus fumigatus is known to release microbial volatile organic compounds (mVOCs) that give mold its foul odor and can cause a number of health problems.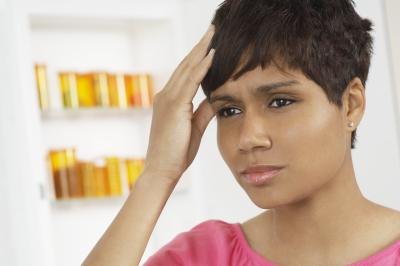 Types
There are a number of indoor molds considered allergens, but certain types are more dangerous. These molds are fungi that grow on materials high in cellulose, such as drywall and wood. Anything made from paper (wallpaper is a prime target) is also highly susceptible to mold growth. Some molds produce mycotoxins in addition to mVOCs, both of which are poisonous—and you may not even know they are present. These microscopic spores are far too small to see with the naked eye; in fact, they can easily live on the head of a pin. They then make their way into the lungs and upper respiratory tracts of the humans and animals who breathe them every day.
Warnings
Though toxic mold is less common than benign varieties it is not possible to tell the difference by sight alone. All mold found in the home should be tested for toxicity and removed promptly by a professional.
Any indoor mold can cause allergic reactions, which can vary greatly depending on the type and an individual's susceptibility to the toxins. Ultimately, it is important to get help from a professional, who can test the mold and safely get it out of your living space.