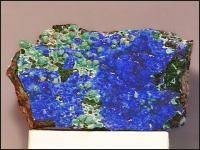 Overview
Definition
A mineral is a non-living substance that occurs in nature. It has a certain quality and consistent chemical structure as well as a distinct natural composition. Usually, a specific crystalline formation accompanies its structure and composition.

Some minerals are elements. Familiar elements include carbon, arsenic, gold, silver, copper, lead, mercury, platinum and iron. The majority of minerals, though, are chemical compounds. Minerals combine with each other to form rocks. Unlike a mineral, rocks have a mix of ingredients.
Formation
When copper oxidizes, it forms the carbonate mineral azurite. This beautiful crystal has more than 150 different formations. It displays color variations ranging from a striking azure blue down to a very dark blue-looking black. Although azurite is formed from the copper family, its appearance is not necessarily an indicator of the presence of copper for mining.

Azurite slowly absorbs water and, with time, transforms into malachite. Miners generally find azurite and malachite together as a deep-blue stone with brilliant flashes of green intermingled throughout the formation.
Properties of Azurite
This mineral is beautiful, but it is also extremely fragile. It is a soft copper carbonate mineral in a spectacular deep blue. However, its rating on the Mohs hardness scale is very low, registering only 3.5 to 4.0. Azurite mines could produce one massive piece or a formation of nodules taking the shape of a broccoli head.

Azurite weathers easily and is adversely susceptible to light, heat and open air. All of these factors will affect the brilliance of its color. Collectors should store azurite in a cool, dark space such as an airtight container. Its fragile nature, however, is not a detriment to its popularity.
Uses of Azurite
Centuries ago, azurite was the pigment of choice for artists and painters. Paintings from that time, when viewed today, attest to the fragility of the azurite. Azure blue skies have oxidized over the years and become a most unusual shade of green. Mineralogists and collectors alike see this as one of the most aesthetically pleasing transformations made by any mineral.

Azurite formed the basis for early make-up applications, especially eye shadows. This use stopped when the fragile qualities and color changes -- when mixed with water -- became blatantly obvious. However, its use in jewelry and ornamental decor continues.
Mining Locations
Most of today's fine malachite comes from mines in the Congo region. Azurite comes from copper mines in Africa, Australia, Chile, China and the former Soviet Union

Azurite also comes from mines in Utah, Arizona and New Mexico in the United States. There are also multiple locations in Mexico. Mines in La Sal, Utah, Bisbee, Arizona, and Grant County, New Mexico, are noteworthy because of the outstanding quality of azurite that they produce.
Photo Credit http://www.wpclipart.com/imgsize.php?percent=50&img=http://www.wpclipart.com/rocks_minerals/A/Ax_Az/Azurite_w_green_malachite.png
Promoted By Zergnet