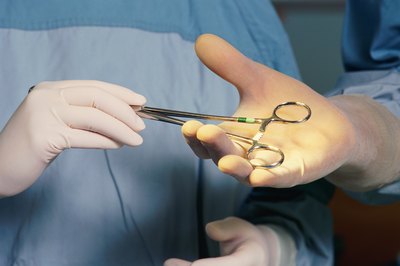 Pre-Surgery
Although adenoids are designed to trap bacteria and viruses, sometimes these spongy tissues located on each side of the throat and the roof of the mouth can swell or enlarge. This causes general throat pain, stuffy nose, snoring and swollen glands in the neck, primarily in children.
Surgical removal of the adenoids is sometimes coupled with a procedure to remove the tonsils, as both can cause similar symptoms. Prior to the surgery, the child will be given general anesthesia, meaning she is unconscious during the procedure.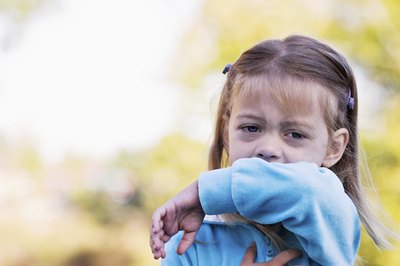 The Procedure
Once the child is unconscious, a doctor inserts a small instrument to hold the child's mouth open to increase the ease by which the tonsils are accessed. The surgeon does not use a scalpel or any other device that requires an incision into soft tissue; instead, a curette (a medical device similar to a spoon) or a microdebrider (a rotating instrument that helps to remove tissue) to remove the adenoid glands.
In some instances, a surgeon may cauterize the glands, which is a method using heat to seal the tissue, which keeps permanently keeps the adenoids from working.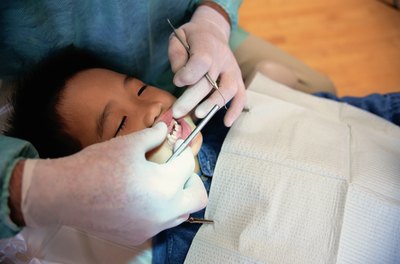 Finishing Steps
No sutures are required following adenoid removal; however, a surgeon will control any bleeding due to irritation by packing the child's mouth with cotton or gauze. This will absorb any bleeding, reducing discomfort for the child.
After surgery, the child will be taken to a recovery room where she is monitored and the anesthesia is given time to wear off. Once a patient is awake, she may be asked to cough, swallow and breathe through the mouth, confirming that the patient is ready to return home.
Your doctor may prescribe pain medication for the child or recommend an over-the-counter pain reliever. Do not give a child pain medication that is not recommended or prescribed for her as it can be dangerous to a child's system.
Following surgery, your child may experience some discomfort and bleeding. It may be necessary to use gauze to absorb any excess blood. The chief risk factor following surgery is that the removal site may become infected. Closely observe your child for any indicators of this and notify your doctor immediately if your child does not seem to be getting better.