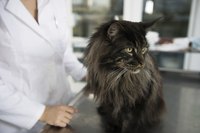 Lymphoma is the most common of feline cancers, making up nearly a third of all feline cancer diagnoses. It's a cancer of the white blood cells known as lymphocytes, which circulate throughout the lymphatic system. The causes of feline lymphoma aren't clear, but it's apparent that cats exposed to either one of two deadly feline diseases are far more vulnerable than cats who aren't.
Feline Lymphoma
Cats suffer from several different types of lymphoma, but the gastrointestinal variety is by far the most common. Other types include the mediastinal form, which usually -- but not exclusively -- affects cats with feline leukemia. The mediastinal variant shows up in the animal's chest. The multicentric type, also more common in cats with feline leukemia, involves various organs. The renal form, found in the kidneys, is uncommon but tough, with most cats suffering from it succumbing fairly fast. It's also associated with cats who carry the feline leukemia virus.
Lymphoma Causes
It's possible that common and deadly viruses cause lymphoma development in cats. A cat infected with the feline immunodeficiency virus has a far higher rate of lymphoma than cats not exposed to the virus. If a cat has been infected with feline leukemia virus, his risk of contracting lymphoma rises astronomically -- 62 times that of an FeLV-negative cat. Cats testing positive for FIV or FeLV usually don't respond as well to treatment, and they die sooner than felines who don't have FIV or FeLV. Regular exposure to cigarette smoke may increase the odds of a cat contracting the gastrointestinal form of lymphoma.
Typical Feline Lymphoma Patients
Cats diagnosed with lymphoma are generally older -- the average feline patient is between the ages of 10 and 12. Cats who are allowed outdoors but aren't up to date on vaccines are more often affected than cats that stay indoors. Early signs of the disease are often vague, so your cat might be "not quite right" for a while, without obvious signs of illness. Typically, an affected cat experiences vomiting and diarrhea, lethargy, weight loss and an off-and-on appetite. He might have dark, tarry feces or blood in the stool. These symptoms are similar to those of other diseases often found in geriatric cats, so your vet will conduct blood tests, ultrasounds, fine needle aspirations or biopsies to make a definite diagnosis.
Treatment and Prognosis
Unlike with other forms of cancer, surgery and radiation aren't typical treatments for cats with lymphoma, because the disease is never local -- it has already traveled throughout the cat's lymphatic system. Most cats with lymphoma receive chemotherapy.
Prognosis depends upon whether your pet has the high-grade or large-cell type, or the low-grade or small-cell variant of the disease. Cats with high-grade lymphoma often fail to go into remission after receiving chemo and die just a few months after diagnosis. Cats with the low-grade form might live up to two years after chemotherapy treatment.