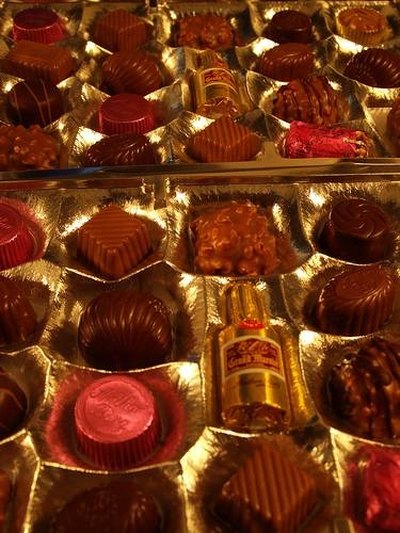 Chocolate and Opiate Production
Eating chocolate stimulates the brain's opioid production. Opioids are chemicals responsible for diminishing pain sensations, enhancing pleasurable ones, and creating a sense of overall well-being. Your body's natural opioids include endorphins, chemicals which increase your pain tolerance. Runner's high is due partially to increased endorphin production. (Resource 1) Four studies support the premise that the instant mood improvement associated with eating chocolate is related to the reward response, and not to the effects its chemicals may have on the brain. The consensus is a simple one: Chocolate makes us feel good because we like the way it tastes.
In a 1995 University of Michigan study headed by nutritionist Andrew Drewnowski, binge eaters injected with the opiate receptor blocker Naloxone ate less chocolate than the binge eaters who didn't receive the Naloxone. The study failed to established whether the chemicals or the fat and sugar in the chocolate were responsible for boosting opiate production. (Reference 1)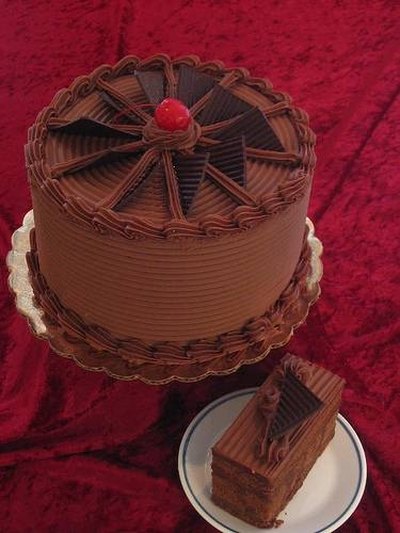 Chocolate and Increased Dopamine Production
Increased opioids raise the brain's levels of dopamine, believed to trigger the "reward response." Within the mid-brain is a neural network connecting to the nucleus accumbens which generates positive feelings following specific behaviors. (Resource 2)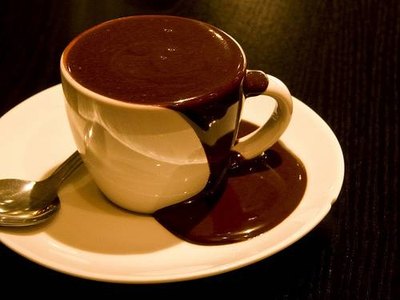 Study 2
2005 research at Australia's University of South Wales School of Psychiatry supported the hypothesis that chocolate improves mood not because of its chemical content but because eating it stimulates opiate and dopamine production.
After looking at the amounts of chemicals including caffeine, phenylalanine, tyramine, and theobromine, present in chocolate, the study concluded that the concentration of those chemicals are insignificant when compared to their concentrations in other foods. Yet people continue to turn to chocolate when they are in negative moods. (Reference 2)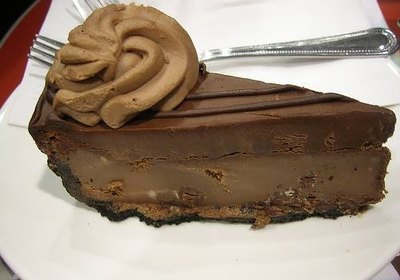 Study 3
Dual 2007 studies performed at Germany's University of Wurzburg Department of Psychology took a different approach. The first tested the hypothesis that consuming chocolate has an instant effect on negative moods, but not on positive nor neutral ones.
The subjects of the study watched film clips chosen to elicit negative, positive, or neutral moods. Some of them then ate chocolate while others drank water. Those who watched the negative film clips and ate chocolate had a greater reduction in their negative moods than those given water. Eating chocolate had "no or only marginal effects...on neutral and positive moods." (Reference 3)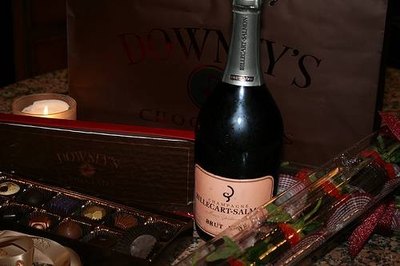 Study 4
The second University of Wurzburg study tested whether the mood-enhancing effect stems from the palatability of the chocolate, rather than from the chemicals it contains.The researchers found that subjects given palatable chocolate had more improvement in their negative moods than those given either unpalatable chocolate or nothing. The improvement in mood, however, lasted only three minutes.
The researchers concluded studies that supported the idea that "chocolate-induced mood improvement was associated with emotional eating." In other words, people who were in induced bad moods felt better after having something sweet. The palatability of the chocolate, and not the chocolate itself, was the mood elevator. (Reference 3)