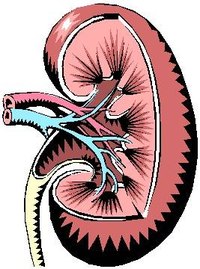 Despite their relatively small size, our kidneys play a very large part in enabling our bodies to function properly. Their job is to regulate the balance of water and minerals in our blood stream. One of the ways that the kidneys accomplish this task is through controlling our blood pressure. The kidney controls blood pressure by expelling surplus sodium from our bodies. If the kidneys are not functioning properly and not enough sodium is excreted, blood pressure will rise.
However, if blood pressure drops, the kidneys are able to release an enzyme into the body that causes blood pressure to rise to stable levels. This hormone is called rennin, and it is part of the renin-angiotensin-aldosterone system. If blood volume is too low, the kidney will release renin into the body. Renin is a trigger for angiotensin, which is used to narrow the blood vessels. A narrowing of the blood vessels results in higher blood pressure. At the same time that angiotensin is causing blood vessels to constrict, it is also stimulating the adrenal cortex to produce aldosterone. This hormone prompts the kidneys to keep an excess of sodium and water, which, in turn, raises blood pressure levels.
The renin-angiotensin-aldosterone system has both long- and short-term effects on kidney function. It can be set off by a sudden drop in blood pressure, or it can be active over a long period, subtly changing blood pressure levels in the body as changes in sodium and water levels are detected. When blood pressure begins to drop too low, the system will be activated. However, once homeostasis is achieved and blood pressure levels return to normal, the system will ease off.
It is important to note that chronically high blood pressure damages kidneys, and, in turn, damaged kidneys are unable to regulate blood pressure. High blood pressure is anything above 140/90 and can be caused by a number things, including being overweight, race, age, diet and exercise, family history, use of drugs such as alcohol and cigarettes and stress levels. Maintaining a healthy lifestyle is not only imperative to overall health but also to the lifespan of your kidneys and their ability to function as regulators of your blood pressure.