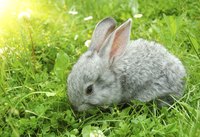 Rabbits have three sets of scent glands used in marking territory. One set is under the rabbit's chin, the second set lies on either side of the urogenital opening and the third set is anal. The anal glands add scent to expelled fecal material, while the other two are used by rabbits to mark objects. Sometimes, scent glands near the urogenital opening become blocked with a waxy excretion. Such a blockage requires gentle cleaning.
Locate the Scent Glands
The urogenital scent glands, also known as inguinal scent glands, lie just above a rabbit's anus. They can be visualized by holding your rabbit in a safe position on its back. The glands appear as two delicate slits on either side of the anus. Manipulate the skin to open the gland for visualization of the blockage. The blockage will appear dark in color and have a strong scent.
Clean the Scent Glands
Warm water or mineral oil and cotton swabs will be needed to clean a rabbit's scent glands. Place the rabbit comfortably on its back and expose the glandular blockage in one gland. Gently soften the blockage with water or oil administered with a cotton swab. When the blockage becomes loose, it can be removed with the swab. Repeat the process on the opposite side. If the blockage is too difficult to remove, make an appointment with your veterinarian. Prior to doing this for the first time, be sure to have your vet show you the proper procedure.