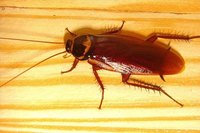 According to Thaibugs.com's "Amazing Cockroach Facts," cockroaches have inhabited the Earth for nearly 400 million years. That's a sure bet that they have invaded and infested thousands of different type dwellings, causing much consternation from the people trying to get rid of them. With close to 7,500 species of this nasty bug in existence, it is no wonder the cockroach has managed to survive any and all attempts humans have made to destroy them. They are resilient to anything we attempt and can creep in when you are least expecting them. They'll take up residence in your home, and the battle will be long and hard to rid yourself of these pests.
Sneaking In
Even though there are thousands of this species, most of us are annoyed by only a few different kinds of cockroaches. The American, German, Oriental and Asian cockroach seems to be the one that enjoys our homes as much as we do. They will slip in unnoticed, then one night you'll turn on the lights, only to see them scurrying everywhere to hide from you.
Cockroaches do not discriminate. There presence triggers thoughts of un-kept or dirty homes. The truth is a cockroach will thrive in the cleanest homes too. It only needs a source of water and food, and a dark place to hide during the day. Once the cockroach makes it into the home, it will stay until it is found and exterminated.
Cockroaches can find their way into your home through tiny cracks in the homes foundation, or through doors and windowsills. They can also hitch a ride in a grocery sack, newly delivered furniture, or even a sack of potatoes. Visitors to your home can carry them in, if they have an infestation at their home. The cockroaches can be hiding in the visitors coat pockets or purse.
Cockroaches mate in order to reproduce. If the female that invaded your home is carrying an egg sac on her belly you will be infested with 16 to 50 nymphs, or baby roaches, when this sac hatches. These babies will live, eat and grow while hiding in your home. Once they become adults, the males and females will mate, producing more eggs. Soon the infestation will be out of control.
Since the cockroach is a nocturnal insect, you may not be aware of the infestation until there are thousands of them. Wiping down all of the countertops and the stove in the kitchen every night will help eliminate their food source. Put sticky roach traps in out of the way, dark places to check for infestations, before they get out of control.
Health Precautions
Roach infestations are both unsightly and unhealthy. The cockroaches give off a very unpleasant odor, and studies have linked cockroaches to triggering asthma and allergies just by being present in the home. Cockroaches can carry diseases such as salmonella or E.coli. They will leave traces of these deadly diseases behind as they crawl around your cupboards and over your dishes. Check your cabinets regularly for any signs of roach infestation.
When an infestation is found, it must be eliminated quickly for health reasons. An infestation can be hard to control by yourself, as most of the over-the-counter products do not work. Aerosol bombs will do little to eliminate them as they fail to penetrate their deep dark hiding places. If necessary, call an exterminator.