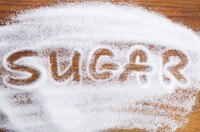 Having some types of sugar, like those from fruit or milk, contributes to better health, but the health issues begin when you eat too much of the sugar added to foods during processing and preparation. Americans consume an average of 22 teaspoons of sugar per day, which equates to a total of 355 calories. Too much sugar in your diet contributes to tooth decay and affects your energy levels, your weight, your brain and your risk for diseases like diabetes.
Energy Levels
You may get a quick burst of energy when you eat a high-sugar treat, but it is often followed by feeling sleepy. This is mostly because when you consume a lot of sugar, your blood sugar level increases and then signals the release of insulin from your pancreas. This results in a sharp drop in blood sugar levels, leaving you feeling fatigued. As your body tries to recover, you may crave even more sweet treats. This effect may be especially significant for individuals with sugar sensitivity like hypoglycemics or diabetics.
Relationship Between Sugar and Heart Disease
Having too much sugar, especially from sugar-sweetened beverages, has been linked with dyslipidemia, hypertension and cardiovascular disease. People who consume more added sugars tend to have higher levels of blood triglycerides and lower HDL cholesterol levels, both of which are risk factors for heart disease. Further, a study published in The Journal of the American Medical Association: Internal Medicine in 2014 concluded that too much added sugar in your diet increases your risk of dying from heart disease.
Sugar, Weight and Diabetes
If you drink a lot of sugar-sweetened beverages, you not only have an increased likelihood of becoming overweight or obese, but you may also have a greater risk of developing diabetes and metabolic syndrome, according to a study published by the American Diabetes Association in 2010. However, added sugars do not directly cause diabetes -- genetics and lifestyle factors do. Diabetes risk is affected by sugar intake in that added sugars often lead to excessive calorie intake which in turn may lead to being overweight -- a risk factor for developing diabetes.
Effects of Sugar on Your Brain
While researchers have not yet entirely proven that sugar is addicting, it appears that you can show symptoms of dependence on sugar such as continuing to consume it in excess when you have evidence of negative consequences like obesity or uncontrolled diabetes. Chronic excess sugar consumption may also interfere with your brain's messaging system that tells you when to stop eating, and therefore contributes to overeating and obesity in this way as well. Excess sugar can even change levels of certain brain chemicals and may interfere with your memory or contribute to depression and dementia.
Nutrition Recommendations
When you eat or drink too many sugary items, they may either add to your caloric intake and cause weight gain or take the place of more nutritious food and lead to nutrient deficiencies. To keep this from happening and to prevent negative health consequences, the American Heart Association recommends that women consume no more than 6 teaspoons or 100 calories and men consume no more than 9 teaspoons or 150 calories per day from sugar.