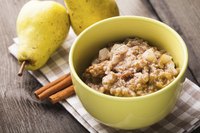 Oatmeal has high levels of a soluble type of fiber known as beta-glucan. Researchers have studied beta-glucan and its effects on cholesterol for decades, with promising results. Oats are like tiny sponges, soaking up and discarding bile acids that trigger high cholesterol levels. While you should see lower cholesterol numbers on your future lab results, it won't happen overnight.
How It Works
Beta-glucan has the ability to absorb a lot of fluid. This is why that gooey texture forms in a bowl of prepared oats. Beta-glucan works similarly in your gut. When it reaches your intestinal tract, it gradually picks up bile acids as it moves along -- bile acids make up cholesterol. In the end, the bile acid and some dietary cholesterol get excreted through your stools. Over time, your low-density lipoprotein, known as the artery-clogging "bad" cholesterol, goes down and your total cholesterol levels improve.
Amount to Consume
You should aim for two servings of oats per day to lower cholesterol levels, Columbia University's Go Ask Alice service reports. One serving is 1/3 cup of dry oats. Opt for whole or regular oats if possible. Instant oat packets are beneficial if you're in a hurry, although you'll want to get a kind that is unsweetened. The added sugars in many instant varieties aren't going to do anything to help lower your cholesterol.