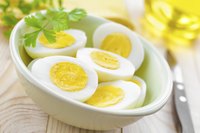 A water-soluble B-complex vitamin, biotin is present in small doses in a limited number of foods including bread, eggs, cheddar cheese, liver, pork, salmon, raspberries, cauliflower and avocado. Biotin can benefit your health in a variety of ways, and healthy adults should aim for 30 micrograms of the vitamin in their daily diet. A supplement might be necessary if you don't eat meat or animal products. Speak to your doctor, however, before adding a supplement to your daily routine.
Treats Biotin Deficiency
Biotin deficiency is a fairly rare condition, but it does exist. Symptoms of a biotin deficiency include hair loss, thinning hair, change in hair color, depression, hallucinations, tingling in the extremities, and rash around the nose, mouth and eyes, MedlinePlus notes. People at risk of a biotin deficiency include smokers, diabetics, pregnant women and people who eat two or more raw egg whites daily for several weeks.
Helps Metabolize Nutrients
The human body needs biotin to help metabolize and use other nutrients properly. Biotin plays a role in the breakdown of foods you eat, but it also binds to certain enzymes that play additional roles in the use of nutrients. For example, biotin binds to an enzyme that synthesizes fatty acids and also binds to a different enzyme responsible for the production of glucose from non-carbohydrate sources. Biotin also aids in the metabolism of amino acids and cholesterol.
Benefits the Nervous System
Humans need sufficient amounts of biotin for their nervous systems to work properly, which might explain why a deficiency can tingling or numbness in the arms and legs. Biotin has some responsibility in the metabolism of nutrients that benefit brain and nervous system cells, according to a 2009 article published in "European Food Safety Authority." In fact, a biotin deficiency in an infant can result in brain and nervous system-related developmental delays, the article notes.
Additional Benefits
An adequate intake of biotin promotes normal hair growth and maintenance, according to the European Food Safety Authority. Sufficient biotin also promotes healthy skin that's less susceptible to rashes, as well as the maintenance of mucous membranes. Increased biotin might be necessary during pregnancy because certain birth defects can be attributed to biotin deficiency, though studies indicating this were conducted on animals, according to the Linus Pauling Institute. Biotin might help diabetics by regulating glucose levels, although research is limited.