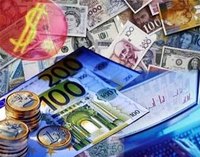 When currencies were linked to specific weights of gold or silver, their value changed very little over time. For hundreds of years, until the twentieth century, this was the case. In the modern market-based currency system, currencies have no fixed value, and instead, they are quoted in relation to other currencies. The result is a system wherein currencies fluctuate based on the buying a selling of participants in global currency markets. This leaves the value of currencies subject in large part to speculation and interest rate arbitrage as much as or more than the economic strength of a particular economy.
Nevertheless, issues of supply and demand still factor largely in currency markets. Demand for currency for actual buying is called "transactional demand." This demand is generated by large international transactions. For example, on most exchanges or bourses, crude oil is sold only in U.S. dollars. This makes it imperative for oil importing nations to have a supply of US dollars, which in turn props up the dollar's value by creating demand. Similarly, net exporters sell their goods in their local currency, obliging their trading partners to own at least some of the transactional medium.
Currencies are also largely subject to interest rates. Despite Japan's strong technological exports, it has maintained a low interest rate environment for years, keeping its currency low relative to other major world economies. Not only do low interest rates reduce transactional demand by encouraging investors to park their money in higher-yielding currencies, they can actually change the supply of currency in circulation. In order to effectuate a change in interest rates, central banks must add or remove money. Higher interest rates require the reduction of supply, which drives up the value. Additionally, changes in interest rates inspire speculators to buy or sell a currency in an attempt to "price in" the changes far faster than the normal circulation would provide.
Speculation provides another important role in the fluctuation of currencies. Investment in currencies is at least in part based on the perceived performance of an economy relative to most others. Countries whose GDP grows faster than their money supply are in effect increasing the value of their currency. These countries will be able to raise their interest rates and pay more for debt. Speculators will attempt to capture this added value through a variety of investments, including the outright purchase of currency in the foreign exchange market, which is where currency fluctuations originate.