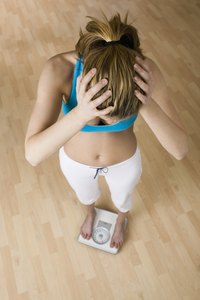 To maintain your weight, you need to take in as many calories as you burn. For example, if you consume 2,400 calories in a day and your body burns 2,400 calories -- through both regular bodily functions and physical activities -- you're in balance and will maintain your weight.
Calories and BMR
You can carefully monitor your diet to track your calories, but determining your caloric burn is a little trickier. Part of doing so is knowing your basal metabolic rate, which people often simply call your metabolism -- that is, the rate that your body burns calories to maintain basic body functions.
Using BMR
Your BMR depends on your gender, age, height and weight. For a man, the formula is 88.362 + (13.397 x weight in kilograms) + (4.799 x height in centimeters) - (5.677 x age in years). For a woman, it's 447.593 + (9.247 x weight in kilograms) + (3.098 x height in centimeter) - (4.330 x age in years).
It's simpler, however, to use an online BMR calculator to find the answer. Finding your BMR tells you how many calories your body burns per day. Once you know the answer, you can use an online calorie activity calculator to determine roughly how many calories you burn during exercise and routine activities. Add this number to your BMR and strive to ensure your caloric intake is roughly the same.