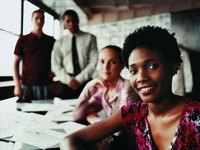 Although using low-cost labor for manufacturing and basic services may seem financially attractive in the short term, there are disadvantages to using this strategy. Legal violations, product defects, worker safety issues and high employee turnover are all drawbacks associated with low-cost labor. All of these drawbacks, among others, directly impact the efficiency and effectiveness of a company's operations.
Legal Violations
According to Daily Finance, Wal-Mart violated the Clean Water Act in 2012 and was required to pay $27.6 million to the state of California. The violation stemmed from poorly trained and poorly paid employees dumping waste in an unlawful manner. Not only do these types of violations detract from the bottom line, but they also reduce operating efficiencies. In the case of Wal-Mart, if employees had disposed of the wastes in the correct manner the first time, there would have been no need for clean-up efforts, a legal defense and other activities detracting from the company's overall efficiency.
Defects & Customer Returns
Low-cost labor may not have the same skills, work ethic or attitude compared to better-paid labor, resulting in product defects and customer returns. Low-cost labor may not know how to work as efficiently either, or how to remove waste from their processes or systems. The higher defect rates, production turnaround times and customer returns drive up operating costs, even though the labor is cheap and initially looks attractive. In particular, customer returns can increase the workload of customer service representatives and others in an organization, not just production personnel.
Worker Safety
Poorly paid and trained employees may not be as familiar with worker safety standards as they should be, ultimately resulting in higher accident rates. In addition to any monetary obligations companies have associated with accidents, they also have to deal with employee downtime and the resulting lost productivity associated with the accident. Ultimately, worker safety issues detract from the overall efficiency of a business and can have lasting implications for a company's financial future.
Employee Turnover
Low-paid employees tend to stay at their jobs for a shorter period of time, because they have a hard time surviving on meager wages. High employee turnover has a direct impact on operational efficiency. All of the effort put into recruiting, on-boarding and training employees is wasted when they leave. When experienced employees leave a company's workforce, it can cause disruptions for everyone on a team or even in an entire department, despite if they're lowly paid.