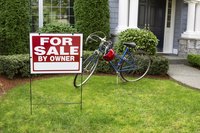 Home warranties offer a measure of reassurance to homebuyers and can help sellers get their homes sold. Home warranty plans typically last one year and may be renewed annually. They cover basic components, such as plumbing, electrical systems, water heaters and built-in kitchen appliances. (see ref. 1) Depending on the amount of coverage you choose, they may protect even more items. However, home warranty plans have certain limitations which are specified in your agreement with the home warranty provider. They charge a flat fee for visiting your home and may not cover pre-existing issues.
Benefitting Buyers and Sellers
Home warranties can protect buyers from unexpected costs when items in a house break down within the first year of ownership. Many buyers purchase plans upon closing on a home for peace of mind. If an older stove that came with the home stops working or the plumbing gets backed up, for example, they can ask the home warranty company to evaluate and fix the problem if covered by the plan. Sellers can also purchase a home warranty to cover needed repairs during a home's marketing period. They can then transfer the plan to the buyer, as a type of selling point or incentive.
Home Warranty Cost and Coverage
A standard one-year home warranty plan typically costs between $350 and $500, according to Realtor.com. The price goes up as coverage needs increase. For example, you can add coverage for certain appliances, like a refrigerator and washer and dryer. You can also buy protection for your pool, the air conditioner and the roof. Additional coverage usually adds $100 to $300 to the standard premium. Buyers and sellers can negotiate who pays for the coverage and how much. A buyer can purchase his own, a seller can buy it for the buyer as a concession and real estate agents can even purchase plans for their clients.
Service Fee Details and Limitations
Getting the home warranty company to come out to your home for a specific issue generally costs $50 to $75. This service, or "trade," fee involves third-party tradespeople in your area, hired by the home warranty provider. You can't call your own service person and have the company cover it. Home warranty companies generally won't replace items that have reached the end of their useful life, items that were damaged before the close of escrow or defects due to improper maintenance.
Builders Offer Home Warranties, Too
Newly constructed homes come with a separate home warranty offered by the builder. Builders can offer a warranty directly or pay a third-party company to cover certain components of the new house. Buyers of new homes can also purchase the traditional one-year warranty plan from another company for added protection. These warranties for new homes commonly cover workmanship and materials for up to one year after the home is built, such as trim, stucco, drywall and paint. Builders may also offer a 10-year warranty for major defects affecting the structure safety and soundness, such as a roof.