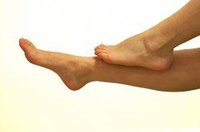 Not all toe injuries or breaks require intervention from a physician. If your pain doesn't go away with regular pain relievers, look for some of the following symptoms: blue or grayish skin color, numbnes, tingling or an open cut or sore. These symptoms likely require medical attention.
If you don't have any of the major symptoms, you can probably care for your toe yourself. Tape the broken toe to the toe next to it using medical tape. Taping two toes together keeps the broken toe straight while it heals. Bone will regrow, but it won't grow straight if your toe isn't kept straight.
If the break doesn't require surgery, put ice on your toe every four hours for about 30 minutes each time for two days. The toe can begin to heal sooner if the swelling is brought down faster. As long as you have swelling, keep your foot propped up. You will need to give your toe four to six weeks to heal. If necessary, your doctor can give you crutches to walk with.
An X-ray can help determine whether your toe needs to be set back in place with a pin or a screw. If you leave a severely broken toe the way it is, the bone will grow in crooked. The toe will heal, but not properly, and that can cause problems with walking and can even make you more prone to arthritis.