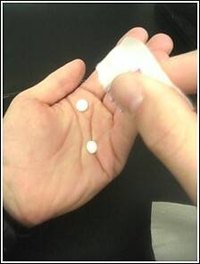 Made from white willow bark, aspirin has anti-inflammatory properties, as well as a pain-fighting power. One of its most heavily-touted properties in recent years is its ability to reduce blood clots and the risk of heart attack or stroke.
Aspirin works by inhibiting the production of prostaglandins. Prostaglandins regulate pain and inflammation within the body by affecting the communication between the cell and the brain. By blocking their production, aspirin helps mask the feeling the mild pain and inflammation because the prostaglandins are unable to create the sensation of pain.
Another of prostaglandin's functions is to cause the constricting of blood vessels that allow platelets to clot. When aspirin targets prostaglandins, it is helping to reduce blood clotting. For those people at risk for cardiovascular disease, heart attack and stroke, a daily regimen of aspirin can keep the blood thin enough to travel freely through narrow, clogged blood vessels.
Prostaglandins also help protect the stomach lining from the corrosive stomach acid that helps us digest our food. Aspirin is unable to distinguish between the prostaglandins in the stomach that have this crucial role and the ones in the blood that unfortunately cause blood vessels to constrict. Therefore, a daily dose of aspirin can cause stomach irritation. However, in low dosages, aspirin's effects on the stomach can be kept to a minimum.
In addition to ongoing aspirin therapy, taking aspirin directly after a heart attack can lower the risk of having a second heart attack and can keep the heart tissue from dying.
Though aspirin therapy is beneficial, it doesn't come without side effects and risks. In addition to stomach irritation, aspirin therapy is not recommended for those with bleeding disorders, stomach ulcers, asthma, heart failure or other conditions. Consult your doctor before deciding if low-dose aspirin therapy is right for you.