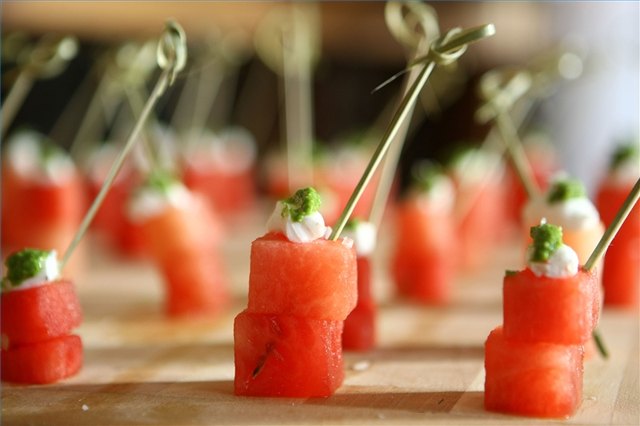 There are more than 50 varieties of watermelon, and all are about 92 percent water and 8 percent sugar and rich in vitamins A, C and E.

— Jackie Keller, nutritionist and wellness coach of NutriFit in Los Angeles
There's nothing better than biting into a crisp, juicy slice of watermelon on a hot summer day. This picnic and party food goes from snack to side dish to dessert with just one swipe of the carving knife.
But there's more to watermelon than meets the eye -- or the tongue. It can hold its own in cocktails, as part of an appetizer or even on the barbecue. Best of all, it's good for you.
"There are more than 50 varieties of watermelon, and all are about 92 percent water and 8 percent sugar and rich in vitamins A, C and E," said nutritionist and wellness coach Jackie Keller, a Le Cordon Bleu-trained chef and the founding director of NutriFit, a gourmet food company that aims for healthy meals and meal-delivery service in Los Angeles.
Eric Gruber, executive chef at Shore Lodge and its affiliated residential area and members-only club, Whitetail Club, and The Cove spa in McCall, Idaho, said it works well with cheeses such as goat cheese, feta and blue brie, and in salads with red onions, mint, basil, grape and cherry tomatoes, olive oil and balsamic vinaigrette.
"You can grill watermelon and sprinkle it with lime, salt or cayenne pepper, and its flavor is great for sorbets, margaritas and traditional Mexican fruit beverages called aguas frescas," he said. "We especially like to use it at The Narrows [restaurant at Shore Lodge] in our watermelon gazpacho."
Smoothies, Salsas and Salads
Start your melon menu with a watermelon smoothie or cocktail.
Justin Keith, executive chef at Food 101 in Atlanta, suggests you take diced red flesh from the melon and puree it in a blender. Pour the puree through a fine mesh sifter to catch extra pulp and seeds.
Use the liquid along with your favorite cocktail or smoothie ingredients, just as you would juice or mixer, and pair it with a watermelon appetizer.
"Watermelon makes a refreshing base to salsas," Keller said. She suggests peeling, dicing and pairing watermelon with spicy chilies and crunchy jicama. It can also be served with grilled meats or "by itself with homemade corn tortilla chips."
Salads can also kick off your best melon meal. Lisa Cain, who writes about healthy snacks on Snack-Girl.com, recommends a watermelon feta salad. It's a mix of two cups of diced watermelon, a quarter cup of crumbled feta cheese and a tablespoon of chopped dill in a small bowl.
"Eat it immediately, or the watermelon will become soggy," she said.
Grill Deals
Grilled watermelon is a new taste sensation that can bring out the seasonal sumptuousness of many entrees.
The experts at Barbeques Galore, a premium retailer of grills and grilling accessories, recommend cutting watermelon and feta cheese into 1-inch cubes, then skewering the cubes and placing the skewers on a high-heat grill. Grill the watermelon triangles, then drizzle them with a honey-lime syrup and season them with salt.
Another option is to place a large, rectangular block of grilled watermelon on a bed of arugula. Top the watermelon with balsamic reduction and feta cheese, and finished it with a sprinkle of salt.
Kyle Schutte, executive chef of Vu in Marina del Rey, California, created a buzz in L.A. with his Chicken-Fried Watermelon. Schutte cooks chunks of watermelon at a very low temperature over a long period. The chunks are coated with a homemade batter, then fried like chicken. Schutte tops them with pickled watermelon rind.
Pairing Off
Watermelon suits many tastes, so you can always have the right flavor combinations for themed meals or parties.
Keith recommends melon with mint, basil or cilantro for a refreshing combo, or with a creamy chevre cheese or pungent blue cheese for a mellow smoothness. For "a kind of fire-and-ice effect that works," he suggests watermelon with jalapeno.
And don't forget the seeds and rind. Keller said roasted watermelon seeds are about 67 percent fat, but it's healthy fat, so you can indulge with abandon. Position seeds and bits of pickled rind on a plate or platter with other watermelon dishes for a decorative appeal that also tastes great.
Photo Credit Neilson Barnard/Getty Images Entertainment/Getty Images
Promoted By Zergnet