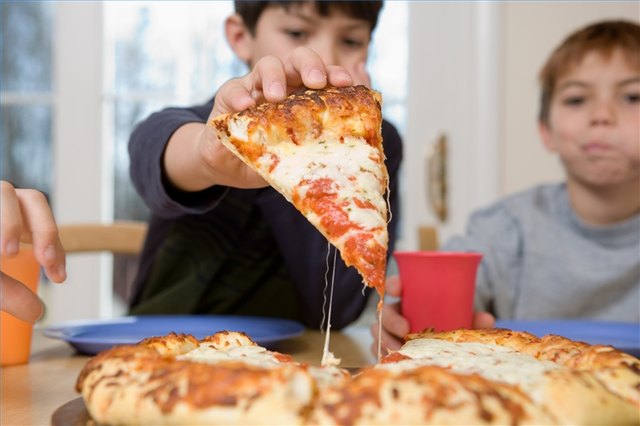 It's been a fun learning experience with each pizza turning out better than the last.

— Lauren Pearce
Pizza is often stereotyped as a starving college student's staple food because of its quick delivery and satisfying taste.
But Lauren Pearce and her boyfriend aren't in college anymore. They were sick of the greasy, unhealthy pizza they had had delivered to their home and couldn't afford to keep eating gourmet pizzas at restaurants.
So the Arizona-based couple chose to try making their own pizzas at home to have more control over the ingredients and the cost.
"My boyfriend and I decided to start making our own pizza as part of an overall life change with healthier food, with ingredients that we know, because we made it," Pearce says.
It was a learning experience. While her first few attempts ended up as some sort of fiasco, Pearce kept trying, and she has learned that the key to success is a combination of healthy ingredients, a high oven temperature and the right equipment.
Choose Your Ingredients Wisely
Young people and families alike can benefit from making pizza at home because of the health benefits of controlling the ingredients in the pizza. With a few simple tricks and tools of the trade, any home can become a professional pizzeria.
"We decided to start making our own pizza to bring more fun and flavor into our healthy diets while saving money," Pearce says. "We also wanted to have more control over the ingredients we were eating."
Taking control of the ingredients in your pizza is the key to creating a more nutritional meal. Frozen pizzas often lack vegetable toppings, and delivery pizzas are heavy in fat and grease because of the way they are cooked and the heavy amount of cheese often used.
One way to make a more nutritious pizza is to use vegetables. Chef Jennifer Iserloh, author of "Secrets of a Skinny Chef," points out that you don't have to precook most vegetables -- they'll cook when the pizza goes into the oven.
"That's one mistake that people make -- don't precook those toppings," Iserloh says. "I find them mushy and gross."
Another trick is to make a pizza that doesn't require a lot of cheese. Chef Devin Alexander recommends a barbecue chicken pizza. By adding a lot of chicken, you get protein that can often be missing from a pizza dinner. Another trick: She uses goat cheese in place of mozzarella.
"If you put goat cheese on it, you don't need nearly as much because, although it's a little caloric, the flavor is so strong that is goes a lot further," Alexander says.
Another alternative is to use mozzarella-style almond cheese, which is low in calories and fat. You may find it at some health food and specialty grocery stores.
"If you just eat it off the block, it doesn't necessarily taste like mozzarella," Alexander says, "but if you put it on a pizza, it melts so well and tastes great without being greasy."
Dealing with the Dough
As novice pizza makers, Pearce and her boyfriend learned the hard way that dough needs a lot of love.
"The first time we made pizza, the dough didn't rise, probably because we didn't knead it long enough," Pearce says. "It took us a few times to figure out how much physical labor was needed to get the dough right."
Iserloh recommends a food processor or a standing mixer for making dough because they eliminate the kneading.
"When you push the dough down, it will bounce back to your finger. That's how you know it's ready," Iserloh advises.
A challenge for Pearce and other at-home pizza makers is getting the crust right.
"First few times we had the temperature too low and got soggy pizza," says Pearce.
The key to good crust is twofold: heat and a pizza stone.
"A hotter oven bakes your pizza faster and more like a pizzeria pizza," says Dan Goldstein, author of PizzahomeChef.com. "A faster, hotter baking seems to keep a pizza more vivid and keeps the dough more springy and steamy while creating a more delicate crustiness."
Chefs recommend that you cook your pizza at the highest temperature possible on your oven---at least 500 degrees.
The best way to get pizzeria-type crust is by using a pizza stone---a flat, ceramic stone that distributes the heat evenly throughout the pizza crust.
"You can make a pizza parlor-quality pizza with a pizza stone," Alexander says. "If you try to do it in a pan with the exact same ingredients and the exact same calories, it's going to taste not nearly as good."
A pizza stone needs to heat up gradually with the oven. Never put a pizza stone in an oven that's already hot, because it will crack, says Alexander.
After two months of experimenting with cooking pizza at home, Pearce and her boyfriend are hooked. They plan on buying a mixer and pizza stone to make the process even easier.
"It's been a fun learning experience," says Pearce, "with each pizza turning out better than the last."
Photo Credit Jupiterimages/Photos.com/Getty Images
Promoted By Zergnet