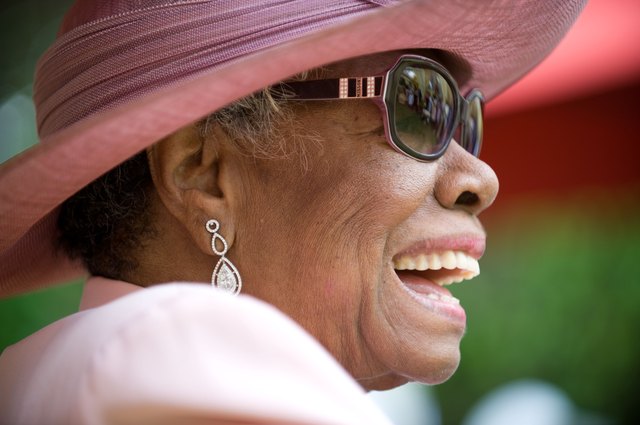 If you can get what you really want, cook it the way you want it cooked, five or six spoonfuls or forkfuls can hold you.

— Maya Angelou, author, poet, educator and activist
It should come as no surprise that one of the most influential voices of contemporary literature brings poise, intention and palpable joy to her kitchen. Dr. Maya Angelou, the 82-year-old renaissance woman known for her dramatic prose, activism and passion for the arts, history, education and civil rights, has had a lifelong love affair with all things culinary.
"I'm a serious cook," she said. "I love to plan the food. I enjoy the cooking of it. And I will plan the whole meal while I'm in my bathtub."
Self-Commitment
Angelou's food fervor met challenges when a medical exam revealed serious risks for hypertension and diabetes. She had to lose weight. Her first attempt at healthy eating involved replacing decadent ingredients with low-calorie alternatives.
"But I was starving!" she said. "So I decided to cook the way I always cook, just not eat as much. I gave myself my word that I would not have seconds. It's the most wonderful thing, you know, when you give yourself your word in private -- secretly. You feel like a ninny if you go back on it because you've been there all the while."
She prepared and ate every recipe in her latest cookbook, "Great Food, All Day Long: Cook Splendidly, Eat Smart," and relished every bite. Meanwhile, her weight-related health concerns diminished.
Simply paging through her cookbook is enough to push your salivary glands into overdrive. Recipes such as chicken tetrazzini, barbecued spare ribs, pumpkin soup and "all day and all night" cornbread are interwoven with heart-warming stories and personal insight. In her typical way, Angelou draws you into not only her kitchen, but her life.
Abandoning Rules
Rather than abide by diet rules, Angelou recommends listening to and fulfilling your cravings. If your taste buds are screaming for fried chicken and you sit down to a T-bone steak, you're liable to eat the entire steak -- and perhaps seconds.
"It's because your taste buds haven't been satisfied," she said. "If you can get what you really want, cook it the way you want it cooked, five or six spoonfuls or forkfuls can hold you. Then you can say, 'I'll come back to this in two or three hours. But right now, that's exactly what I want.'"
In her book, Angelou observes that people often keep eating long after they're full. "I think they are searching in their plates not for a myth, but for a taste, which seems to elude them," she writes.
For this reason, her recipes aren't divided into meal-specific categories, but instead organized by themes like "A Brand-New Look at Old Leftovers" and "Waking up the Taste Buds." The result? A cookbook geared toward fulfilling moment-to-moment cravings, rather than following the established mealtime norms. Have fried rice for breakfast, if you want, or her omelet with spinach for dinner. All bets are off.
Seeking Pleasure
One of Angelou's most beloved culinary experiences involves a youth favorite: the "simple everyday" hot dog. However, she's developed a version for a grown up palate. Angelou tops a grilled, Hebrew International hot dog with her homemade chili. "Then I get a cold, frozen beer stein out of the freezer and open a wonderful freezing bottle of Corona beer. It doesn't get much better than that," she said.
Patience, Angelou believes, is a significant ingredient lacking in Americans' diets. "Our children, for the most part, have their major meals at counters and various places where they eat standing," she said. "I encourage people to sit down. Have some patience with themselves."
To this end, she suggests planning meals beforehand to avoid stressful rushing around while cooking. Sit down to enjoy meals in a peaceful, pleasing atmosphere. And don't reserve your best dishes, silverware or food for guests.
"I serve myself with the best I have," she said. "I make a pretty table. There are some white roses on my table right now. I'm looking at them. And I'm having a nice glass of pre-lunch, good white wine... Pretty soon my assistant and I will have a great, sort of a chef salad, served with English biscuits."
Because that's precisely what she craved at that moment.
Photo Credit Steve Exum/Getty Images Entertainment/Getty Images
Promoted By Zergnet