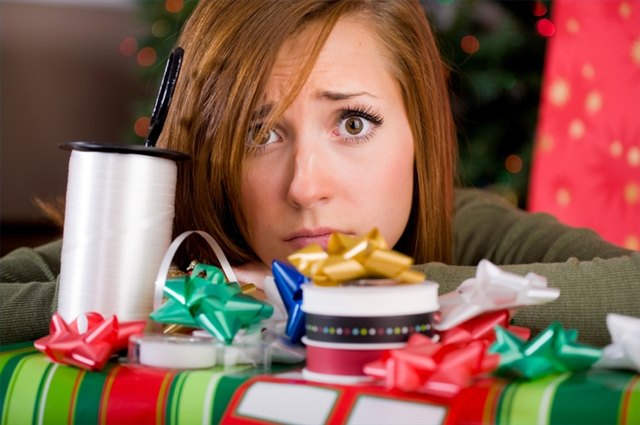 When it comes to the holidays, you have to set realistic goals.

— Lynne Kenney, author of "The Family Coach Method"
When you think about it, it's really the carols that are to blame. Those timeless holiday ditties play on in an endless loop in our heads, brainwashing us into believing that no December is complete without a white Christmas spent roasting chestnuts on an open fire, while donning our gay apparel and wishing for nothing more than our two front teeth. Christmastime in the city is supposed to inspire the ring-a-ling of silver bells, not honking traffic jams, the screams of trampled shoppers at 5 a.m. and, well, you get the idea.
No holiday season can possibly live up to its songs, which is not to say that yours can't still be filled with festivities, family and fun. But you've got to keep those visions of sugarplums from dancing too wildly in your head.
"For some families, the pressure to do things perfectly and to do it all can be overwhelming," said Lynne Kenney, Psy.D., author of "The Family Coach Method" and a practicing psychologist. In fact, according to the American Psychological Association, heightened stress during the holidays can put a woman's mind and body at great risk (and it can't be healthy for men either). You can avoid falling into the perfection trap, however, by taking a few practical steps to minimize the stress and maximize the fun of the holiday season.
Olden Days, Happy Golden Days
Eating Grandma Shirley's apple pie, the recipe passed down through the generations in an unbroken chain. Hiking deep into the tree farm to choose and cut down the family Christmas tree. Putting extra leaves in the table and inviting the extended family for an elaborate holiday meal. "When the memories and traditions of holidays past come to life, we often remember them as perfect," Kenney said, "but when it comes to measuring our success, we have to measure it in the present."
If all your memories of holidays past are happy ones, chances are you're remembering them wrong, or at least selectively. Take that idyllic tree farm excursion, for example. Remember how much time you spent arguing over which tree was best? No? How about how much dad complained about getting the tree onto the car? Those things happened too.
This holiday season, ask yourself whether anyone is going to care (or even notice) whether you bring a store-bought pie to dinner, pick up a tree from the parking lot vendor up the street or cut back on your homemade menu offerings. Honor your family traditions, but update and simplify them to suit your family's changing passions and priorities.
I'll Be Home for Christmas (Or Will I?)
You committed to going to your parents' house on Christmas Eve, and to your husband's brother's place on Christmas morning, and then back to your own house that afternoon, where you're joined by his parents but not yours because it's an even-numbered year. You fulfill all the commitments, but everyone's miserable. The kids are off schedule, and the entire family is exhausted. Your toddler is having a meltdown every five minutes, the baby won't calm down, and neither you nor your spouse has an ounce of patience left. You're embarrassed, wiped out and stressed out. The problem? Everyone else's expectations were met, but not those of your own family. The solution? Manage those expectations.
"When it comes to the holidays, you have to set realistic goals," Kenney said. For goals to be achievable, they must be based on what your family is realistically capable of doing. From what family activities you'll take part in, to how you'll interact with other family members, your goals need to be based on the reality of family members' needs. For young families, that might mean attending events around the children's schedules. A less than ideal relationship with in-laws might require limiting the time you spend together. During the holidays, the goal isn't to do everything but to do what you can well.
Be Good (to Yourself) for Goodness' Sake
When the invitations to family gatherings start pouring in and you're faced with decisions to make, "Quit thinking about what you can do and what you can't do," said nationally certified and licensed professional counselor Caron Goode, founder of the Academy for Coaching Parents International. "Instead, place your hands on your heart and ask yourself what your passion is. When you do, you'll discover the answer comes from your emotional strength, rather than your scattered thoughts."
When it comes to families, it's no secret that sometimes you must do things you just don't want to do. This is especially true around the holidays. When making decisions this holiday season, Kenney suggested, employ a cost-benefit analysis.
"Evaluate your decision based on what it's going to cost you and what the benefits are if you attend." While you may not want to drive 90 miles for that family dinner, it's probably worth the effort, since the benefit of building and maintaining family relationships will likely outweigh the costs of filling the gas tank and taking the time to drive out for a visit, especially if you see these family members only a few times a year. But if you really can't attend, there is a polite way to turn down the invitation. Kenney recommended a response that lets the host know you're grateful for the invitation, for example: "I appreciate being included, yet my time is quite committed. May we consider next year?"
If extended families want to celebrate holidays together, careful planning and organization are essential to keeping stress at bay, Goode said. "Organize and plan your time carefully so you can spend time with everyone you'd like to."
For some families, it works to take turns hosting gatherings or to visit one side of the family one year and the other side the next. "At the end of the day, though, you really need to do what works for your family," Kenney said.
Photo Credit LeggNet/iStockphoto.com lj1980s/iStockphoto.com
Promoted By Zergnet