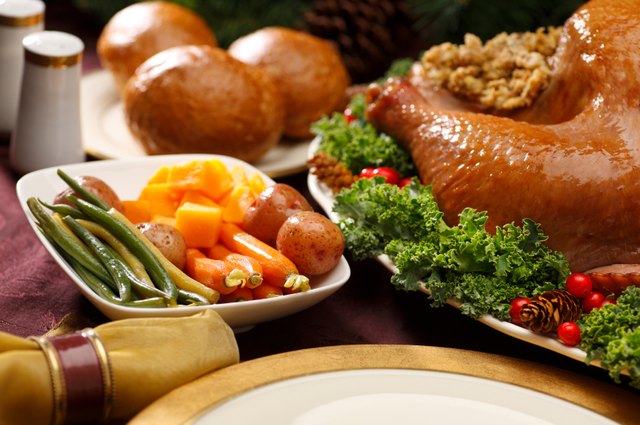 Something will go wrong. That's okay. That's part of the fun.

— Jess Thomson, cookbook author
I attempted my first Thanksgiving dinner in a cramped, drafty flat on Edinburgh's Royal Mile. It was not my finest culinary moment. Key ingredients were impossible to find or astronomically expensive at the corner grocer – a snag I only discovered on Thanksgiving morning. Back in the kitchen, the turkey pan didn't fit in the Lilliputian oven, my mother's pillowy dinner rolls came out hard as hockey pucks, and my only American guest showed up an hour late, with a pan of burned sweet potatoes and a Japanese roommate bearing hand-rolled sushi.
No one said anything when we finally sat down to eat around 8 in the evening, but I could see it in the faces of my European friends: "This is the meal that Americans make all the fuss about?"
No matter if you're an inexperienced twenty-something or seasoned chef, hosting your first Thanksgiving dinner is a rite-of-passage for any home cook. It's a test of mettle and endurance, requiring you to balance the pressures of family, tradition and tactical execution – all while maintaining at least an appearance of holiday conviviality.
It can also can be a lot of fun, provided you've done the prep work. For strategic advice, I turned to food blogger, recipe tester and cookbook author Jess Thomson – a woman who spends all day, every day in the kitchen, and knows a thing or two about juggling several dishes at once. She shared her own game plan for tackling Thanksgiving dinner, and offered tips on how to maintain sanity through the process.
Make a List, Check It Twice
The Boy Scouts knew what they were talking about. Preparation is key to pulling off a successful large-scale feast. Thomson's first pre-Thanksgiving move is to grab a full-size notebook – "I find the kind with the pocket, so I can store recipes," she said – and start making lists.
First, she writes down all the dishes she wants to cook, then she finds the recipes and plans when she will make each dish. After that, she makes separate shopping lists for the grocery store, farmers' market, and items she needs to call ahead for, like a local turkey.
Finally, she makes the most important list of all: "All the other things I have to do before inviting 20 people over to my house," she said.
"It's everything from cleaning carpets and finding matching bedsheets to use as tablecloths, to renting chairs, borrowing dishware from my favorite neighbor, and buying a new oven mitt to replace the one I burned a hole in last week."
Outsource
Once you know what you want to serve, decide what you want to make personally (the turkey, your grandmother's recipe for corn soufflé), and then invite your guests to contribute the rest.
"Just make sure you know ahead of time what they're bringing, so you don't have four pots of mashed potatoes and nothing green," Thomson said.
Remember to account for any extra prep work these dishes might need – the last thing you want is too many cooks in the kitchen. Thomson recommends steering guests toward contributions that don't take up precious oven or counter space.
"Desserts can be displayed proudly outside your workspace. Cranberry sauce, bread or rolls, and dishes that can be reheated quickly in the microwave, like microwaved squash, are also good, because they require minimum involvement from you and can be brought in the same bowl they're served in," she said.
Shop Right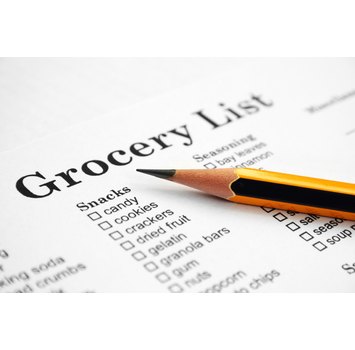 Strategic grocery shopping is crucial to your meal's success. "When you make your grocery list, think ahead: You may need two lists, if you're going to store once before advance prepping and once before the actual meal … or even three if you're going to the farmers' market," said Thomson.
To save time in the supermarket, she organizes her shopping list by where the ingredients are located.
Above all, she cautions against last-minute shopping. "You might not be the only one who needs four pounds of green beans stat, and you might not find them."
Get Started Early
"By early, I don't mean Wednesday morning. I mean Saturday morning, the weekend before," said Thomson, who schedules her cooking like she's approaching a shuttle launch.
"The weekend before, I make cranberry sauce, toast nuts, make and freeze pie crusts, and I usually make a mashed squash or sweet potato crisp that can be frozen. Monday, I make soups or vinaigrettes, and Tuesday I start chopping. Wednesday I trim and peel the more sensitive vegetables, like carrots and green beans, and double-check my grocery list before a last run to the store."
On the big day, Thomson writes out the dishes in the order she needs to make them and gets down to work. "Keep in mind that go time is based on when the turkey comes out," she said. "A 15-pounder will stay good and hot for 30 to 45 minutes, so you can do a lot of last-minute cooking after the bird's done."
Give Into the Madness
Even the coolest customer is bound to get frazzled – but nothing ruins the holiday spirit faster than a chef who succumbs to stress, begins slugging Pinot Noir from the bottle, and screams at everyone to get out of the kitchen. "Something will go wrong. That's okay. That's part of the fun," said Thomson, who then reeled off a laundry list of past mishaps that helped put my own kitchen disasters into perspective.
They also reminded me that Thanksgiving is ultimately about more than the food. My failed dinner in Edinburgh was also one of my most memorable – not because the dishes didn't turn out the way I wanted, but because the ritual eased my homesickness and gave my friends a glimpse into the culture I came from. Remember: At the end of the day, any mistakes you make will pale in comparison to the experience you had making them.
"The holiday is not called Cookperfectlyfortwenty. The point of Thanksgiving is to give thanks and to be together, enjoying each others' company," Thomson said. "When disaster strikes, smile, brush it off (sometimes literally), and if necessary, eat everything else."
Photo Credit DNY59/iStockphoto.com alexskopje/iStockphoto.com
Promoted By Zergnet