If you really don't have a lot of options for fresh produce, turn to frozen before canned. Many frozen foods are flash frozen right when they're picked, which means they are particularly fresh.
A habit is the act of doing an action, over and over, usually without thought. We asked several nutrition experts about their best (and easiest) lessons for getting in the habit of cooking healthy and eating right. As Jennifer Iserloh, chef and author of "Secrets of a Skinny Chef," said about making healthy diet changes: "There are easy ways you can do it even before you start cooking."
Make Simple Substitutions
One obvious target: Dairy products. Many people think, incorrectly, that 2 percent milk is significantly healthier than whole milk. In fact, one cup of 2 percent milk has 130 calories and 5 grams of fat, compared to 150 calories and 8 grams of fat in whole milk. Whole milk also has 5 grams of potentially heart-damaging saturated fat, while 2 percent milk has 3 grams of saturated fat. Even a switch to 1 percent milk cuts the calorie count to 110 and halves the fat content to 2.5 grams, including 1.5 grams of saturated fat.
The best choice, nutritionally, is skim milk, but some people dislike its watery consistency. An easy solution, Iserloh said, is to try skim milk plus, which has added milk solids for a creamier taste.
Cheese can be a trickier ingredient for substitutions, as many fat-free cheese products do not melt as well as their fatty counterparts. Iserloh's go-to choice for a healthier cheese is part-skim mozzarella, which she says melts beautifully.
"It's lower in fat but still has that ooey-gooey melted cheese factor," said Iserloh, who uses it in everything from classic macaroni and cheese to Mexican dishes like enchiladas and nachos.
Go Half-and-Half
Ground beef is an easy option for getting dinner on the table, but it can be very high in saturated fat. Ground turkey is an obvious lower-fat alternative, but it dries out when it is cooked since fat is the key ingredient to keep proteins moist.
Iserloh suggests making a half-and-half mixture of ground beef and turkey in recipes like meatloaf, nachos and meatballs.
Adding milk or bread also helps keep the moisture level up for ground protein with low-fat content. Iserloh adds one-quarter cup skim milk per pound of ground turkey to help retain moisture and keep the meat tender. "Dairy adds the moisture and keeps the protein from seizing up so much," she said.
Eggs also benefit from the half-and-half treatment. Use one whole egg with two egg whites, prepared in your favorite way, for a delicious compromise that still offers the rich yolky taste, Iserloh said. You can freeze the extra yolks in quart containers or double bagged in plastic baggies and use them later for rich desserts like ice cream or cookies.
Use Healthy Add-Ons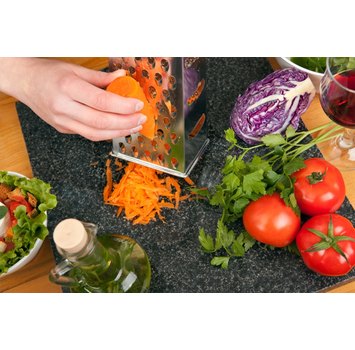 Iserloh's husband is a meat-and-potatoes guy, so she found easy ways to add vegetables to otherwise low-veggie dishes. Grated vegetables like zucchini, carrots or onions add moisture to meat dishes, and are easy enough to prep using a food processor or a box grater.
"Whenever you can get vegetables in, do it," she advised. Plus, getting vegetables in the main entrée means you don't have to worry about making a side dish, which is a great time-saver.
And for an entrée like meatloaf, made entirely with ground turkey, or Iserloh's favorite, turkey Bolognese, grated veggies like carrots can be a great addition. "Just grating an extra carrot in is the easiest thing in the world to do," she said.
Adding canned beans to entrees is another way to boost nutrition with extra fiber, plus this addition helps you feel fuller faster. Iserloh adds mashed navy or cannellini beans to dishes, such as chicken enchiladas.
Eat Locally and In Season
Registered dietician Jill Nussinow, the self-proclaimed "Veggie Queen," has made it her mission to help people get more vegetables into their diets. Nussinow said it's hard to tell which vegetables are in season when looking around grocery stores, because they ship in produce from around the world.
"But once you know what's in season you'll be getting the better tasting stuff, even if it's in the grocery store," she said, because it will be fresher. And, don't be afraid to ask your grocer what's in season.
Better-tasting produce lends itself to simple preparations, like steaming, roasting or stir-frying, which makes cooking easier.
Even regions with cold climates or harsh winters have seasonal vegetables, Nussinow said. Kale can be roasted in the oven to create delicious chips, similar to potato chips (but healthier), and root vegetables are always an option. Nussinow also advocates growing your own sprouts, which is easier to do in the winter because you don't need to worry about humidity and mold.
If you really don't have a lot of options for fresh produce, turn to frozen before canned, which has added preservatives and salt to help it maintain consistency and taste. Many frozen foods are flash frozen right when they're picked, which means they are particularly fresh.
Focus on the Right Veggies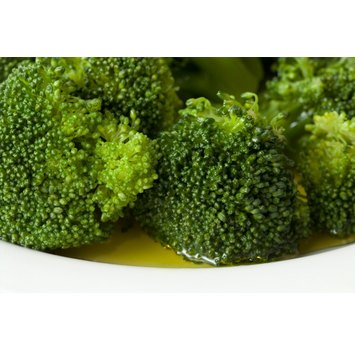 "Not all vegetables are created the same," Iserloh said. Her "fab four" of nutrient-dense vegetables are spinach, broccoli, carrots and sweet potatoes.
You get a better bang for your nutritional buck in focusing on these vegetables. "One cup of broccoli has your daily intake of vitamin C," she said. Replace the nutritionally vacuous iceberg lettuce with baby spinach in tacos or mix sweet potatoes in your regular mashed potatoes.
Other great choices are veggies from the cruciferous family, which include cauliflower and Brussels sprouts. And, you can try new ways to use these vegetables. Iserloh recently prepared cashew chicken and tossed Brussels sprouts at the end -- an unusual combination that she said was "so good."
Photo Credit Neustock/iStockphoto.com MarkSwallow/iStockphoto.com pixdeluxe/iStockphoto.com Mixmike/iStockphoto.com Dimitris66/iStockphoto.com
Promoted By Zergnet