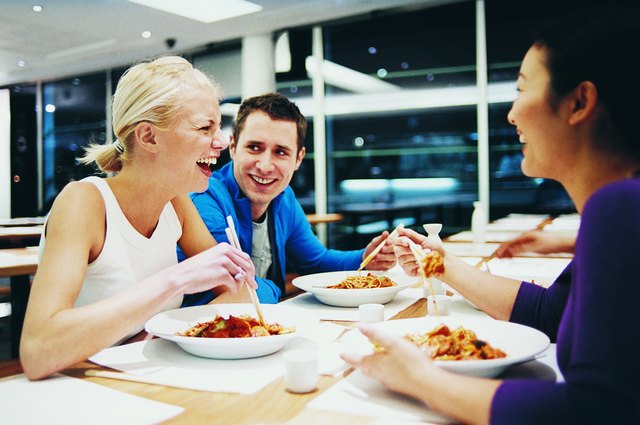 "Having a social life gives your children permission to have one too, and it helps them develop into completely secure adults."

— Ellie Slott Fisher, author and relationship expert
For many parents, having a social life is often relegated to slivers of free time found after working all day, helping with homework, cheering at soccer practice and bagging lunches.
While the proverbial "me time" can seem elusive when your priority is raising healthy and happy children, experts say that making time for yourself is as essential to your children as it is to you and your spouse.
Instead of feeling guilty about taking personal time, think about what having an active social life can teach your children, says author and relationship expert Ellie Slott Fisher.
"If you're always at home every Saturday night, as your children get older they can start to feel responsible for your social life," Fisher said. "Having a social life gives your children permission to have one too, and it helps them develop into completely secure adults."
Creating Me Time
Finding room in your daybook for you doesn't have to be a juggling act if parents prioritize it and rethink their perception of "parent-time" versus "child-time," says Mia Redrick, a strategy coach for busy mothers and the author of "Time for Mom-Me: 365 Daily Strategies for a Mother's Self-Care."
Parents often miss out on unexpected opportunities for personal time while running errands or shuttling kids around, Redrick says. That's why she recommends that along with packing backpacks or snacks for your kids, parents should prepare a tool kit for themselves that can include items like a great book, a journal, music or even a jump rope.
"If suddenly 15 minutes open up, you can then go to your tool kit and do something that you love to do," Redrick said. "Parents often don't plan for self-care. If you pack a tool kit, you can 'date yourself' wherever you are."
Another me-time technique is to blend your schedule with your child's, Redrick says. Instead of watching your kids at football practice, go for a jog or do some lunges and squats, for example. While your kids are in dance class, you can visit a nearby bookstore or coffee shop, Redrick adds. Or better yet, see if the studio offers a simultaneous adult class.
"I always tell parents that when you're doing something for your children, do something for you, too," Redrick said.
Making Room for Couple Time
Having a weekly or monthly date night is an important way to stay connected and keep the romance alive, but parents are often quick to cancel or put off date night when it gets too busy, Redrick says.
One way to stick to date night is to buy tickets to a movie or show in advance, so that your commitment becomes a monetary one as well as a personal one, she says. Parents could even pre-pay a regular babysitter to come every other Friday night, for example, even if they have yet to make plans. Having that regular appointment means that plans have to be made before the sitter arrives, Redrick says.
Date night doesn't have to cost a lot of money either, she adds. It can be as simple as exercising together or watching a movie with a bowl of popcorn after the kids have gone to bed.
Cathy Fleischer, a busy mother of two boys in Mesa, Arizona, knows all too well what happens when couples don't commit to spending time together. A few years ago, she and her husband were so involved with work and their children's activities that they were like two ships passing in the night, she says.
"We were arguing and we just weren't connecting," Fleischer said. "So we agreed that we had to do something, and the solution was that we would have a happy hour for ourselves on Friday afternoons."
Her husband is able to get home early from work and they have drinks and appetizers on their patio, Fleisher says.
"It sounds so silly, but that's what put us back on track," Fleisher said. "It's so easy to get into a rut, and you can have no idea it is happening, so you really have to make an effort."
In addition to date night, couples can also plan a weekend away together every few months or take an annual vacation sans kids.
Single parents may even find it harder to make dating a priority, says relationship expert Fisher. She suggests that single parents commit to an online dating membership or join a group that meets regularly for activities, outings or volunteer work. They could also view their children's activities or parent groups as opportunities to meet other single parents, Fisher adds.
Scheduling Time for Friends
Spending time with friends and community members can also be a great way to reinvigorate your soul, experts say. With enough pre-planning, anyone can create a regular group event or group outing that accommodates many busy schedules, says Debbie Lillard, a professional organizer and author of "A Mom's Guide to Home Organization: Simple Solutions to Control Clutter, Schedules and Stress."
When her children were in elementary school, Lillard was a member of a monthly wine club just for parents that met on Sunday afternoons from 4 to 6 p.m., for example.
"It was easy to get a babysitter that time because there's usually not too much going on then, and my husband and I got a chance to spend time with other couples," Lillard said.
Parenting clubs and parent boards at school or little league are also great ways to stay connected to the community and make new friends, Lillard adds. Say your child is involved in sports or theater. You can make an outing with fellow parents when there is a game or a performance.
Making regular time for friends is an important way to recharge and get advice from trusted people outside of your immediate family, adds Mary Ann Settembrino of Lower Merion Township, Pennsylvania. Twice a year for the past 18 years, Settembrino has hosted two women's-only Golden Globes and Oscar viewing parties -- and there's a rule that guests can only come wearing sweats or pajamas.
"The parties remind me that even though we get busy and don't see each other often, these relationships are alive and well, no matter what happens," Settembrino said. "My kids also get to see me having a commitment to relationships outside of the immediate family, and that's important."
Photo Credit Digital Vision./Digital Vision/Getty Images David De Lossy/Valueline/Getty Images
Promoted By Zergnet
Read Next: How Long Does Klonopin Stay in Your Body?