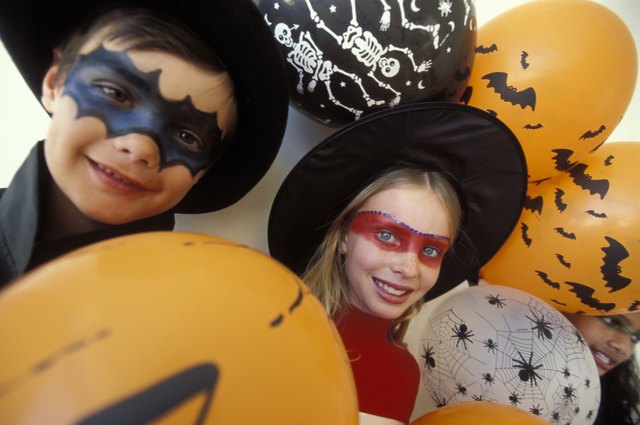 Halloween gives us all a chance to reach out of our everyday and pretend to be someone else.

— Elizabeth Lamont, founder of Room at the Beach
As the leaves turn colors and the winds pick up, the timing is right for a special night filled with ghosts and goblins. With some Halloween sorcery in the air and minimal planning, pull off the party of the century with out-of-the-ordinary ideas to frighten and delight children, families and adults.
Kid-Friendly Halloween Fun
The magic of Halloween can make a thrilling party theme for the young wizards and witches in your life. Host an extraordinary spectacle by launching a school of magic, suggests event planner Merryl Brown of Merryl Brown Events.
"The party begins with the children arriving at the School of Halloween Magic and they're escorted to a potions class, where they each have a cauldron and wand," Brown says.
Add a creepy element to the event by providing small jars of eyeball chocolates and gummy worms as each child follows a potions recipe book, using "slithering worms" and "eye of newt." Fright and delight guests by hiring a magician or a chef to host a witches' cookery class.
If you prefer to add some candy-coated creativity to the night, consider hosting a haunted cookie-house decorating party. "Have a local baker make a large cookie haunted house and create a large table space with bowls of royal icing and dozens of bowls of various Halloween candy to decorate with," suggests Brown.
Young guests can create ghosts out of marshmallows to share with each other and trick-or-treaters.
Get teens involved in the magic of Halloween, too, by hosting a teen dance party, Brown says. With a disc jockey, dance floor, amber disco lights and a Halloween drink bar serving fizzy drinks, the ambiance of the evening may just make up for the candy collecting the teens are missing out on. For special effects, use a fogger or mister to create a mysterious aura in the room, suggests Brown.
Halloween can also be a welcome opportunity for families to gather.
Elizabeth Lamont, mother of 14-year-old twins and founder of Room at the Beach, in Malibu, California, says she loves to bring originality to her annual Halloween parties by launching a neighborhood block party. "My family loves Halloween and we just can't get enough of the spooky holiday," she says.
In fact, her fascination with Halloween decorations is contagious. "Our neighborhood goes crazy with decorations -- each trying to be just a bit more original," says Lamont.
A family friendly block party provides spooky adventures for all ages. While the children parade from house to house to collect treats, the adults gather to eat homemade popcorn balls and sip on cider. "It gives parents time to mingle and enjoy the kids coming by in costume."
Ghostly Celebrations for Grown-Ups
If you think Halloween celebrations are reserved for the young, think again. Parties with themes can provide both an elegant and frightful experience for adult ghouls and monsters.
Host an extravagant masquerade party. Lamont cuts out masks from various Halloween sites and mails them out as invitations. You can request that each party guest decorate and wear the masks to the festivities, awarding prizes for the most distinctive, scariest or colorful mask at the party.
"Lots of cut-out masks on various Halloween websites are downloadable or you can buy a big bag of masks at local craft stores," Lamont says.
For the ultimate creepy experience, Lamont recommends hosting an adult party in Hell. "Send out invites for the evening in Hell by asking your guests to come dressed in red or black. Decorate the house in as much red fabric as you can find and have red candles burning everywhere. Red wine is a must," she says.
Top off the evening by passing out voodoo dolls made from corn husks and yarn, Lamont recommends. "No telling what will happen after that," she laughs. "Use your imagination."
If an over-the-top event is on your wish list, Brown suggests a Halloween costume dinner party, complete with an elaborate Manzanita tree spray-painted black, adorned with bats and studded with crows -- creepy moss, tombstones and black cats beneath it.
Each course of the meal should fit with the theme, while a music playlist matches the vibe you want to create. "Just for fun, hire a server who's in costume and stays in character throughout the night," says Brown.
Creepy, Crawly Party Essentials
To pull off the spookiest party ever, consider decorations, food, music and games.
Lamont suggests keeping the food simple for children's Halloween parties. "One trick our family loves is to fill a vinyl glove with water and add cherries, pushing them into the fingertips," she says. "Tie the glove with string and lay it on a flat plate, freeze and then remove the glove. Float the 'bloody hand' in a punch of lemonade and frozen strawberries to scare your guests."
Although freaky food can satisfy your guests' hunger, it's really all about the decor for this holiday, says Lamont. The outside is a good place to start. Light up the fence with orange lights to lead your guests to your haunted mansion. Top off the trees with helium balloons covered with white sheets.
Gather a basket of leaves and spray-paint them glossy black to form a path to a makeshift graveyard or coffin on your front porch. For extra creepiness, Lamont suggests adding candles in glass containers to the inside of a pumpkin. Use dry ice to create a spooky billowing fog.
Frighten your guests with indoor decorations, too. Cut sinister silhouettes and attach them to every mirror in your home. Gather branches, vines and gourds to decorate the mantle, and add spider webs and fake spiders to the decor.
Party music is also key -- the spookier, the better. Lamont suggests a mix of preselected Halloween music with a mix of the scary classics and dancing music. "With all the new technology, hiding some music in the entry is so easy," says Lamont. "Find the scariest music and it will surprise you and your guests."
When planning, Brown recommends that hosts be realistic about the time they have to make food and to decorate. "Create a timeline, from start to finish; buy what you can and then make just a few key items."
From creepy, crawly themed festivities to spine-chilling decor, the most successful Halloween parties offer your guests the opportunity to use their imagination, says Lamont. "Halloween gives us all a chance to reach out of our everyday and pretend to be someone else."
Photo Credit Pixland/Pixland/Getty Images
Promoted By Zergnet