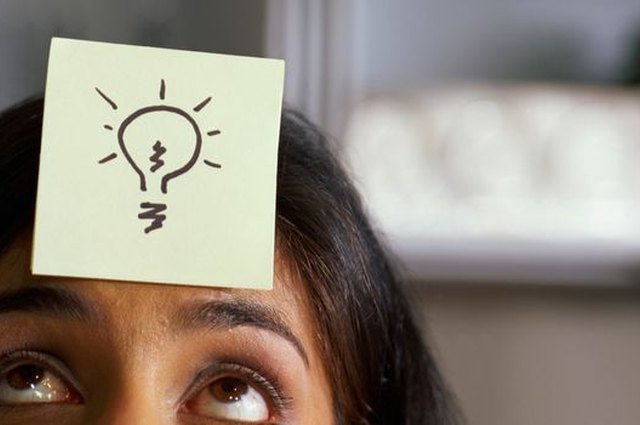 The business plan is the chance for you to sit down and articulate, in detail, what it is that you want to achieve in your business and how you are going to go about doing it.

— Eric Chen, associate professor of business administration at St. Joseph College, West Hartford, Connecticut
You've done it! You've just figured out -- at least, you think you have -- what the "next big thing" is going to be. Now you just have to get down with how to turn that jewel of an idea into what you hope can be a financially profitable business.
But while it may have been easy for you to come up with an idea, you don't know where to start when it comes to becoming a self-employed businessman or woman.
Many have trod your same path, and they say there are several key things every budding entrepreneur must do if he or she wants to stand a chance at making dreams of business success come true. Here are some key points.
First, You Need a Plan
Whether it's opening your own burger joint or introducing some new nifty gadget to homeowners worldwide, you'll need to first brainstorm how you're going to turn that novel idea into a lucrative venture.
Eric Chen, an associate professor of business administration at St. Joseph College in West Hartford, Connecticut, says you do that by building a business plan.
"Some feel that the business plan is a waste of time; however, let me assure you -- it's not," he said. "The business plan is the chance for you to sit down and articulate, in detail, what it is that you want to achieve in your business and how you are going to go about doing it."
For example, if opening a burger joint is one of the goals you've tacked onto your vision board, Chen says developing your business plan allows you to map out things like where you're going to buy ground beef, store your goods and determine price points for your menu items.
Chen says these are things an entrepreneur-to-be should never take lightly because the more you know about your future endeavor, the better off you'll be.
"Business plan templates can be acquired online," he said. "However, these templates will need to be customized for your particular business."
Every plan should include an executive summary, which serves as your two-minute elevator pitch, an industry overview that includes a competitive analysis and explanation of the value chain, and a company section describing your business strategy.
Chen says you also should include a financial section in which you'll develop financial budgets and projections, outline how much start-up capital you'll need and think about your shareholder list and capital structure.
"There are people that you can reach out to for help in constructing a business plan," he said. "I've found retired business executives are often very willing to help in mentoring [people]."
Nail Down the Legal Aspects
Coming up with a plan is only the beginning. You have to think about protecting your brand as well.
Michigan-based attorney Robert Siminski says there are two important aspects you must consider when launching a small business: determining whether to incorporate and whether to pursue intellectual property rights.
"A small business should, in most instances, seek corporate qualification to limit liability in the event of a lawsuit," Siminski explained.
"There are various tax considerations as well. In most cases, the corporate tax treatment will be as good, or better, than an unincorporated business," he said.
Some experts say incorporating your start-up will give your fledgling business an air of gravitas -- making customers more confident in your product -- and allow you to separate and protect your personal assets from your business debts and obligations.
And if your business is going to be based on a new product launch, the unequivocal answer to Siminski's second question, regarding intellectual properties, is a resounding yes.
"If the product is sufficiently novel and non-obvious to qualify for patent protection, at a minimum the business should get a provisional patent application filed with the United States Patent Office before offering the product for sale," he said. "The mere offer to sell the product prior to filing a patent application can kill the business owner's opportunity to pursue patent protection at a later date."
Be Sure of Your Commitment
Before you even think about business plans and product patents, you better be darn sure you're committed to the idea you're trying to turn into business gold.
Leah Carey, a New-Hampshire–based motivational speaker, author and brainchild behind the inspirational blog "The Miracle Journal," says over the years she has lost thousands of dollars trying to turn every one of her whimsical ideas into a failed business attempt.
"The problem has been that I often lost my passion for the idea once I was having to spend every day looking at it and working with it," she said.
So rather than jumping straight into her latest business idea, Carey said she tried a different approach, with great success.
"I started blogging about my newest passion," she explained. "After having written about it four to five times a week for the last 15 months, I am convinced that I will be able to sustain that passion and drive."
Carey highly recommends finding out a way to test your passion first before pouring money into it. By doing so, you can also determine whether there is an audience or buyers out there for the services or goods you're trying to provide.
"This approach could work with anything that someone is going into," she said. "For instance, someone who loves wine and thinks, 'Gosh, I want to have a business that focuses on wine,' might want to blog about wine for a while to see if they can sustain that passion and enthusiasm. [And] running a blog can be done at little or no cost."
Photo Credit Creatas/Creatas/Getty Images
Promoted By Zergnet