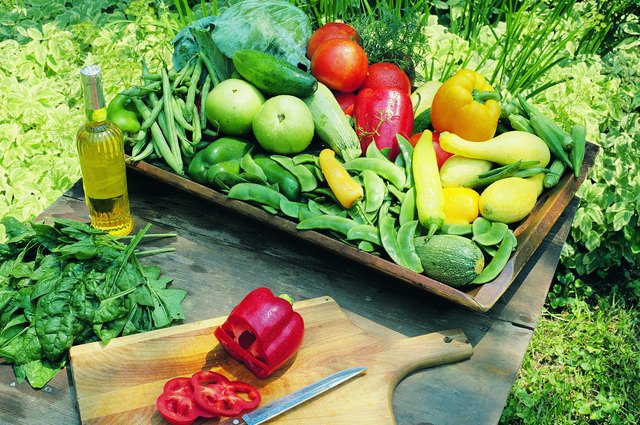 You can plant pole beans that grow vertically to get a bigger harvest in the same acreage. Cucumbers and melons can also grow against a trellis.

— Susan Littlefield, horticultural editor, National Gardening Association
If you're stuck with a tiny front yard, or you live in an apartment, you may think picking your own freshly grown produce and flowers is just a dream.
Think again.
You don't need a sprawling yard to have your very own at-home garden filled with the veggies and blooms you love. A small-space garden only requires some planning and effort.
"Don't be discouraged if you don't have a lot of space," said Susan Littlefield, horticultural editor for the South Burlington, Vermont-based National Gardening Association. "You can still harvest, even if it's a few herb plants on a windowsill. You can still get that connection to the natural world."
Getting Started
Not having the luxury of a huge yard with uninterrupted sunlight and perfect irrigation means you have to do more thinking before purchasing potting soil and seedlings.
First, evaluate the sun exposure on your patio, windowsill, a section of dirt near your front door or any area you are considering for the garden. The amount of sunlight will determine what kinds of plants you will be able to grow says Mary Estes, a landscape architect and the president of Phoenix-based Indigenous Minds.
"Does the space have morning sun, afternoon sun, sun all day or is it shady? Food plants generally need around six hours of sunlight per day and ornamental plants vary from little to all-day sun tolerances," she said.
You also have to consider the mature size of the plant. If you think it may become an obstacle or require a lot of pruning to fit in the available space, ponder something smaller. If you envision your high-rise balcony lushly lined with decorative and food plants, find out about soil requirements before purchasing a palm or apple tree, since containers offer less soil depth, Estes said.
Speaking of containers, upper-floor apartment dwellers should seek out lightweight versions in fiberglass or resin for their balconies. The pots must have holes to encourage drainage, and saucers to minimize water and soil stains, Estes said.
She said narrow rectilinear containers that follow the perimeter of your patio or balcony are good alternatives to the space-eating round containers. You can vary the container heights for visual interest, and play with the plant forms within for additional layering.
Maximizing and Finding Space
Thinking outside of the plant box is another way to procure garden space. Littlefield likes to take advantage of vertical spaces.
She says there are nice options — honeysuckle or bougainvillea — when it comes to decorative vines that extend vertically and produce colorful blooms. But, if creating a sustainable source that will put food on your table is a goal, you are a trellis or two away from several additional options.
"You can plant pole beans that grow vertically to get a bigger harvest in the same acreage," Littlefield said. "Cucumbers and melons can also grow against a trellis."
A sunny but bland front stoop can be a perfect home for a fresh herb box. The box can be moved inside for the winter or to another spot when needed.
"Herbs don't take much space and it's nice to snip some fresh parsley or basil for your salad," Littlefield said.
And, if you are embarrassed by barren or less attractive spots around your house, a series of container plants can also resolve those issues.
"Think of non-traditional gardening spaces like your driveway or deck," Littlefield said. "If you have a shady yard but a driveway in full sun, you can line one edge of the driveway with containers of tomatoes and peppers."
Making your landscape do double duty is another way to maximize your gardening options. Consider replacing the ornamental crabapple tree in the front yard with a fruiting apple tree or citrus varietals, depending on your climate. Swap out the boring shrub near the mailbox with an edible berry-bearing bush.
Littlefield said it's just a matter of being creative about "where you grow stuff."
"You can combine vegetables with flowers so you have an attractive landscape as well as a productive one," she said. "You can do parsley and nasturtiums in a box so it doesn't have to look like just a vegetable container. You're getting the best of both worlds."
What to Plant
Maximizing your little garden's potential means maximizing the production of everything you plant.
For a flower garden you may select perennials, annuals or a combination of perennials and annuals. Among perennials are flowers with short blooming seasons, including peonies. Shasta daisies, by contrast, have long blooming seasons. If you don't mind seasonal digging and planting, Littlefield said, annuals might be your best bet as they tend to enjoy a long bloom season.
Ideally, you want a variety that can fit in with all four seasons.
"Get something that could have flowers in spring, berries in summer and nice fall colors so you're getting more visual interest for that plant," Littlefield said. "If you want to get the most bang for your buck, you may not want something that has flowers in the spring but is a boring shrub the rest of the year."
For an edible garden, grow produce that most members of your household will actually eat. You may love beets, but if everyone else can't stand them, using precious space to grow them may not be worth it. Littlefield suggests you think about the most expensive or difficult-to-find produce and make that part of your at-home farm.
"If you like kale or chard, or unusual greens or herbs used in Thai cooking, most are easy to grow," she said. "Depending on what you're growing, you can save a lot of money."
Avoid plants such as sweet corn, squash and peas, which monopolize space but yield little when it comes to harvest time. Stay away from aggressive spreaders — such as mint — that can take over the garden. If you do crave such things, keep them in their own containers above ground, or bury the container below ground to keep the roots constrained.
Photo Credit Stockbyte/Stockbyte/Getty Images
Promoted By Zergnet