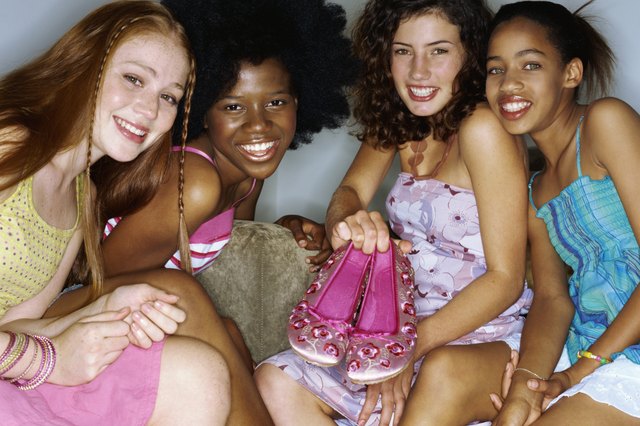 It is a given that your daughter will be obsessed with her looks. Just let her know you accept her the way she looks.

— Linda K. Malm, licensed professional counselor
Being an adolescent is an exciting time for girls, but as they transition between girlhood and womanhood, their confidence can hang in the balance. That same little girl who used to say, "I know," whenever you told her how pretty she was, may now push your praise aside. All of a sudden she goes from a girl who believed she was a princess to one who seems to feel more like an ugly duckling.
Unfortunately, it is not unusual for adolescent girls to worry excessively about how they look.
"Our whole culture is based on looks, so it is really a real challenge to overcome this barrier," says Linda Malm, a licensed psychologist in Wyoming.
It might be difficult to observe the adolescent girl in your life as her confidence in herself lags. However, parents who have been through it will tell you this is normal.
"It is a given that your daughter will be obsessed with her looks," Malm said. "Just let her know you accept her the way she looks."
You cannot keep a girl from going through adolescence, but there are things you can do to help the adolescent girl in your life bridge the confidence gap.
Affirm Her Changes
Adolescent girls often spend an excessive amount of time in front of the mirror as they become more aware of their changing bodies. While there's some pride in that, they may also feel as if everyone is looking at them, and a tremendous amount of pressure to fit in with peers.
"My concern as a counselor would be the issue of admiring movie stars who are dangerously underweight," Malm said. "Helping your daughter recognize what a normal, healthy weight is for her, and teaching her to appreciate her own unique beauty is important."
Malm said "unique beauty" includes your tween's ideal weight and the ability to express her personality and intelligence. Girls concerned with any of those issues, as well as how to fix their hair, apply makeup and what other kids think of them can suffer confidence issues. A parent may have to step in to help.
Dardi Roy of New Mexico, a long-time military spouse and mom of a teen daughter, said friends and family came to her daughter's support when the girl was an adolescent.
"(They reassured) her that she was beautiful and that it was not just an outward beauty, but also an inward beauty," Roy said.
Celebrate Her Firsts
Roy said she believes a parent can help guide a daughter's choices as she approaches new firsts in her life. She said her own efforts have paid off.
"As a teen," Roy said of her daughter, "she is now comfortable and confident in her own style."
Malm said that celebrity infatuation leads to Mom versus Daughter issues when it comes to clothes. Most tweens will look to young female celebrities as fashion guides, and these days, most of those young stars frequently show off their bodies.
Malm said parents will need to take the time to discuss fashion choices with their growing girls.
"Be sure she is aware of your values about exposing her body before you go shopping together," Malm said.
If nothing else, Malm said, you might be able to persuade her that expressing herself can be done "in color and prints" instead of exposed skin.
Laura Gray, a nurse and mom from Oklahoma, said her daughter is tall and athletic, so it is difficult to find the name brand clothing in her size that teens like to wear. Gray never let her daughter feel as if she were unusual.
"We talk about how the clothes feel and look rather than the size on the label," Gray said. "This is not easy, and there have been many tears, but we just keep shopping and have found other stores that offer stylish, cute clothes for girls."
Malm said adolescent girls can also use some guidance about cosmetics and body modifications.
"Makeup is a way for an adolescent girl to express herself that is pretty harmless," she said. "Some limits on amounts of eye makeup are appropriate for different settings. Look at it this way: It can be washed off, whereas a tattoo is permanent."
Give Her Some Space
The last thing an adolescent girl wants is to be treated like a little girl, even if she is still one to her mother. Kim Giffin, a retired schoolteacher and mom of a grown daughter, said she believes girls need some privacy to become more independent, "but adolescent girls still need their parents to be involved."
Roy agrees with Giffin.
"I think kids respect parents that give them room to be independent, yet are honestly concerned about what they are doing and what is going on in their lives," Roy said.
Having privacy goes hand in hand with your adolescent girl's need for independence. You can foster that by giving her responsibility. Malm points out that the girl, "should contribute to the family by doing chores and doing her own laundry."
Giving her freedom can expand outside of the home as well. Her self-esteem can grow even more when you take the step of letting her attend school dances or activities without your presence, but you don't have to let her be unsupervised. Let her know you will be involved.
"Be involved in school," Gray said. "My hubby works at the school. (That's) the absolute best situation. We know everyone, and all the adults are supervising (the youth). We have eyes everywhere. We try to be fun parents that kids want to be around and talk to."
Photo Credit Stockbyte/Stockbyte/Getty Images
Promoted By Zergnet