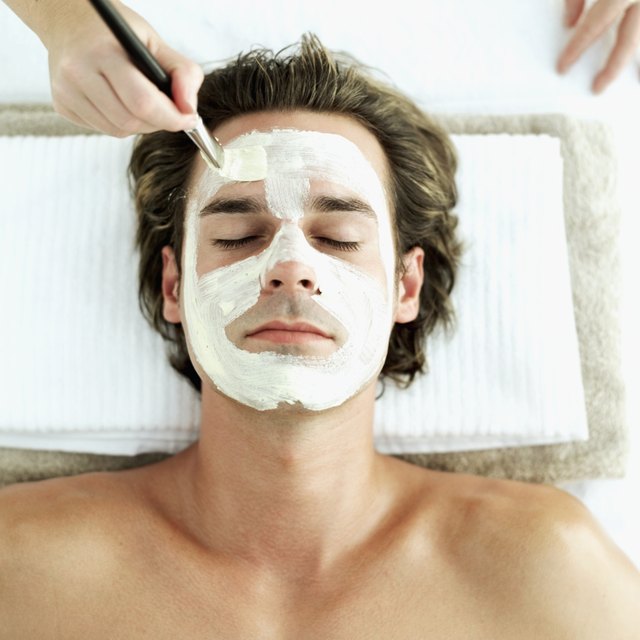 Skin care has long been a daily chore for women, fueled partly by vanity but also by health concerns. With an emphasis on outward appearance, men have joined the effort to put sands back into the hourglass and look to creams, procedures and a variety of products in the chase for youth.
Everyone is trying to market the uniqueness of their product. We physicians look at them a little differently. We want scientific proof. Ninety percent of lotions and creams are placebos.

Dr. Ronald Moy, a Beverly Hills, California-based dermatologist and cosmetic surgeon
Lotions and Potions
Millions of dollars are spent on serums, scrubs, creams and lotions, and the claims vary as to their effectiveness, according to skin care experts.
But there are really only two active ingredients that have been scientifically proven to really reverse the aging process — or at least slow it down — Tretinoin and Retin-A. The first requires a prescription but the second is available over the counter.
It is important, then, to read the labels, because your money may just be circling the drain.
"Everyone is trying to market the uniqueness of their product," said Dr. Ronald Moy, a Beverly Hills-based dermatologist and cosmetic surgeon. "We physicians look at them a little differently, we want scientific proof. Ninety percent of lotions and creams are placebos."
Moy, who has been practicing for more than 25 years and is a long-time researcher/instructor at UCLA's David Geffen School of Medicine, said the substances Tretinoin and Retin-A cause the skin to thicken and change some of the sun-damaged areas that speed up the peeling of dead skin. He said these two chemicals also help treat some of the pre-cancerous, sun-damaged areas.
It is important to note, however, that treatments with those products requires an investment of time. Results are not achieved overnight.
The only over-the-counter topical products that help slow down aging are those that contain retinol and Alpha hydroxy acid, according to Dr. David Sawcer, professor of dermatology at the University of Southern California's Keck School of Medicine. They work slowly, he said, and you must use them regularly over a period of months.
"Tretinoin is the only FDA ingredient available by prescription that will reduce fine lines, wrinkles, rough pigmentation — the consequences of chronic sun exposure that we refer to as aging changes," Sawcer said.
A product known as a DNA enzyme repair, commercially available as Neova, has been shown in clinical trials to reduce the number of skin cancers, Moy said.
Procedures
Beyond the core products like moisturizers and creams are treatments and surgical procedures.
Facials are more than pampered indulgence. A regular course can produce skin that is smoother and tighter with reduced wrinkles, according to Zaida Harris, an esthetician at Willow Spa in Santa Monica, California. The plus side also runs a bit deeper.
"The major health benefits of regular facials include regulation of the immune system, exfoliation, detoxification and stress relief," Harris said.
Facials can also help to unclog pores for acne patients, Moy said, adding that these procedures also allow bleaching drugs to penetrate more deeply for patients with blotchy pigmentation problems and to help make DNA enzyme repair more effective.
Chemical peels — procedures normally performed in dermatologists' offices, salons and spas — contain various mixes of natural materials that work to remove the outermost layer of skin on a person's face. The dead skin is replaced with new, younger-looking skin with fewer wrinkles.
Dermabrasions literally sand away the outermost layers of skin and are used to remove surface imperfections, such as fine lines and wrinkles, minor acne scars and sun damage that may be cancerous.
High Tech
Practitioners like Moy use lasers for both cosmetic and health purposes. Carbon dioxide lasers perform precise resurfacing on problem areas.
"If the patient can afford it, lasers are the simplest, safest way to have skin procedures done. It is very precise in dealing with sun-damaged skin," Moy said. "Say a patient is of Irish-descent with lots of wrinkles and spots. You just take off a layer and you get fresher skin underneath. That thickens their skin and makes them look younger."
Potential targets include actinic keratosis — or solar keratosis — as well as Basal cell carcinoma. The former is a common skin growth that represents the earliest stage in the development of skin cancer. The latter is the most common form of skin cancer. It results most often from excessive exposure to damaging ultraviolet sunlight, but those people who use tanning beds also are at risk.
"(We use this) to get rid of sun damage and help ward off cancer, especially in our clients that have a family history in the area," Moy said. "Insurance companies don't cover it yet, but we do perform these procedures to help fight cancer."
Then there is Botox, a popular yet sometimes controversial procedure that was originally developed to treat facial spasms and other neurological disorders characterized by abnormal muscle contractions. This FDA-approved neurotoxin has also been used by cosmetic surgeons to temporarily smooth laugh/frown lines with varying results.
And to "fill out" the types of procedures in the never-ending search for a youthful look, there is volume replacement. This procedure uses skin fillers mostly around the eyes and upper cheek areas to combat a "hollowed out" look. Soft tissue fillers such as calcium hydroxylapatite and hyaluronic acid are injected into the skin to restore lost tissue volume.
"Those are the areas (eyes, cheeks) that make a person look younger to me," Moy said. "Getting rid of laugh lines is the least important area in terms of someone looking old. There are plenty of young people with laugh lines because they are happy and smile a lot."
And isn't being happy the goal?
Lather Up
In their search for the fountain of youth, many men will be surprised to learn that when it comes to the face, part of the answer can be found in their bathroom cabinet.
After you towel off from the morning shower and stare in the mirror wondering how to slow down the ticking clock of Father Time, you apply that shaving cream without thinking you're performing a deeper service than preparing whiskers for what follows.
"Men are very fortunate in that shaving gives them an exfoliation every day," said Barbara Hayes, vice president of aesthetics marketing for PhotoMedex, which features a clinical skin care line called Neova. "So when you are shaving you are also getting rid of bits and pieces of dead skin, which allows better penetration of anti-aging products for your face."
So don't skimp on razor blades and shaving gel.