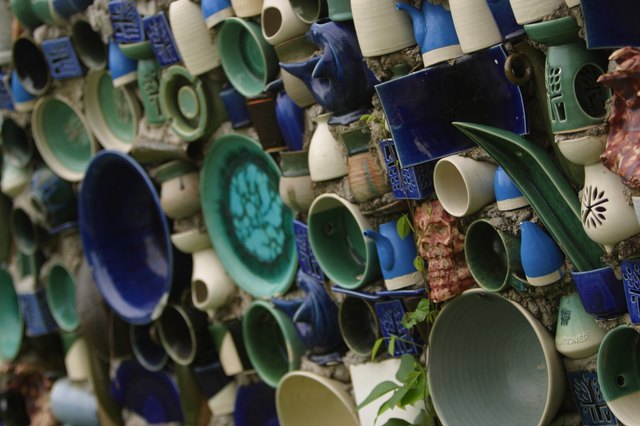 Collections don't have to be shown all together. If you want to showcase one of your Lladró figurines, perfect. If you put them all together, people will feel like they are walking into a garage sale.

— Robert Verdi, style maven and TV personality
There's obviously something in human DNA that drives people to amass objects — be they works of art, kitsch, books or even "Star Wars" figurines. The problem is that even the most sane person can go a little off the rails when it comes to their assemblages of stuff. These precious things can overwhelm your life and your home if you let them. Experienced collectors and artists say you need an organizational system and some common-sense psychology to keep from being featured on the A&E show "Hoarders."
Fashionista's Faves
Fashion expert Robert Verdi, who dresses Eva Longoria among other fabulous clients, can hysterically funny — even when it comes to the generally unfunny topic of storage.
"I am the gay Carrie Bradshaw," he declares. "Most people would die if they saw my shoe collection. They are fabulous: I display them in my bedroom, on the floor, filling the length of an entire wall, pair by pair. It's very carefully curated, and they are works of art."
Verdi's sense of organization also involves a sense of style. If your collection involves wall-hung art, he thinks unifying the frames — such as all silver, all gold or all matte black — works as long as it's not too ornate.
"Also match the matting for all your pieces," he said. "Doing these things can help unify a disparate collection."
Another idea Verdi loves, for any assemblage, is built-in shelves at least 12 inches deep, floor-to-ceiling and wall-to-wall.
"A lot of people only think of storing horizontally, not vertically," he said. "You can use your shelves for books, collectibles, tchotchkes, photos, shoes. You can mix things up and it looks cool and gives you tons of storage room."
Verdi thinks one of the most successful ways to store any collection is in a cabinet so nothing gets dusty.
"Collections don't have to be shown all together," he said. "If you want to showcase one of your Lladró figurines, perfect. If you put them all together, people will feel like they are walking into a garage sale."
Artists and Objects
Oliver Westermeier is a New York City-based artist, collector, and fine furniture restorer. His illustrations have appeared in "Cosmopolitan," "Marie Claire," and "Playboy" magazines. For his vast collection of art he picked out one wall in his living room and hung the framed pieces salon-style.
"If it was all four walls it would be madness. You need a place for your eye to rest," he said.
Westermeier knows a fine line separates that madness and collecting.
"When something becomes a psychological problem, it just isn't fun anymore. If getting rid of anything is impossible for you, you have a problem.
"I just believe it's important to carefully consider what you collect — and what you keep."
Another collecting artist is E.V. Day, a Brooklyn sculptor whose work is in the Whitney Museum of American Art, the New York Museum of Modern Art, and NASA. She has a home chock-full of framed art and sculptures, as well as shoes, jewelry and vintage "floaty" pens. To keep her work life focused, however, she maintains a scrupulously well-ordered studio.
"The point of all of my work is design controlling chaos," Day said. "My art may look chaotic, but it's not. It's about delivering a message via the interplay of disparate objects — and of freezing disorderly events, like an explosion, in time."
Day's loft studio has a collection of tiny, rarely used supplies she has to keep organized. The key to Day's ability to keep bedlam at bay while she's working is the use of classic auto-shop, multi-drawer rolling carts.
"All of my storage units are red, and anything work-related goes into them," she said. "It's about being able to move them when I need to and to use small drawers to store tiny things."
As for knowing what's in her multiple cabinets: "I am obsessed with the P-Touch label maker," she said. "I put those stickers on everything!"
Arguments for Less-Is-More
Linda Varone is a feng shui–oriented interior designer and an in-demand speaker at the Boston Center for Adult Education. She's also the author of "The Smarter Home Office." She encourages her clients to edit or weed their personal treasures.
"Display things that remind you of the people, places, or events that you love the most," Varone said. "People should have mementos around that remind them of the present and show their intention for the future."
She advised, "Let go of the sense of obligation to things, like the ugly vase you were given by your aunt." Hold onto the sentiment behind the gift, she says, but not the gift itself. "Your albatross may be someone else's treasure."
The display should have some space to itself. If things are too jammed in a room, Varone says, "energy can't flow around those treasures and will block the heart connection and energy flow into the space."
Bob Richter doesn't have that problem. Richter, a Manhattan-based interior designer, has collections that number into the thousands. They include antique bone china, modern glassware, pottery and furniture from the 1940s, and take up five (five!) storage units. Richter, who has talked about his obsession for collecting on a "Martha Stewart Living" radio show, thinks the best way to treat a collection is to make it the star of the room.
"If 'stuff' is going to be your focus, keep the furnishings and paint a room simply," he said. "I also suggest unifying displays by color. I have a dresser top in my own bedroom that is filled with pottery, but it is in varying shades of orange, so it automatically has harmony."
Richter believes the easiest solution to an out-of-hand collection is to recognize that you don't have to have all of your stuff out at one time. He also has some tough love for people who amass too much.
"Frankly, there are a lot more collecting people out there than minimalists, and your stuff is what makes a house a home. However, if it's in piles, or making you feel crammed, then you have too much of it. Get a storage unit, and clear some surfaces. ... You can always bring it back."
Photo Credit NA/Photos.com/Getty Images
Promoted By Zergnet
Read Next: The Welcoming Home