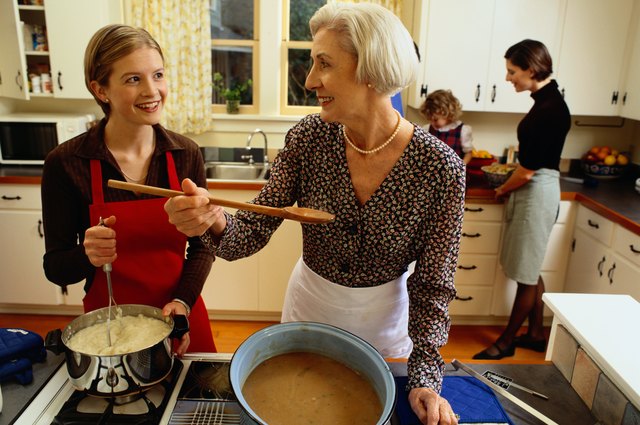 Farmer's markets are full of bargains if you know how to shop. Whole heads of cauliflower and broccoli go a long way and onions, potatoes and squash are value foods, too.

— Emily Anne Vaughn, associate program manager for Slow Food USA
Thanksgiving is about giving thanks. It's about family and friends. But it's equally, if not mostly, about food. Besides, thankfulness and loved ones tend to be free. Food isn't. From birds the size of small children to complicated side dishes, the grocery bill for such a meal can become too much to bear. And as soon as you try to cut corners with cost, you probably worry that you're cutting corners on quality, as well.
The reality is the opposite, though, and not only can you make a feast that won't require a bank loan, but one you can truly be thankful for.
And that is what it's all about.
Frugal Shopping Starts With a List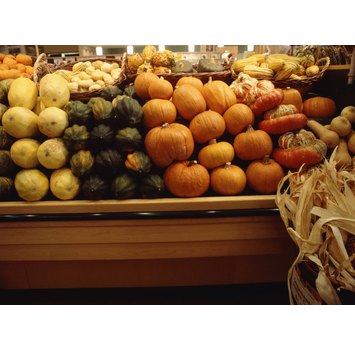 To keep costs down, a shopping list is essential to staying on track and within your budget. It's also the foundation of your menu. When planning a meal, though, many people overlook a big food supplier: their own kitchen.
"Using what you have on hand keeps prices down in the kitchen and reduces waste," suggests Emily Anne Vaughn, associate program manager for Slow Food USA.
It also gives you more options. Once-forgotten items like dry spices, noodles or grains in your cabinet, and frozen veggies and fruits in the freezer can become cornerstones of gourmet meals.
After you've assessed what you have, round out your list strategically for the things you need. Look to ads, sales and coupons from the weekend shopper.
When you finally head to the store, leave the plastic at home. Instead, bring a set amount of cash, and maybe a friend. Having a cash ceiling will keep you within budget, while a shopping partner might split the cost on bulk items or help you score buy-one, get-one specials.
But don't limit yourself to a one-stop shop. Farmer's markets and local produce stands are often filled with cheaper -- and fresher -- fruits and vegetables than the chain super market down the street.
"Farmer's markets are full of bargains if you know how to shop," says Vaughn. "Whole heads of cauliflower and broccoli go a long way; and onions, potatoes and squash are value foods, too."
No matter where you shop, resist the urge to buy more than you need.
"It's easy to go overboard when you're at the market and everything is mouthwatering, but the reality is that a third of the food in this country goes to waste," Vaughn says. "Don't let it happen to you."
Smart Substitutions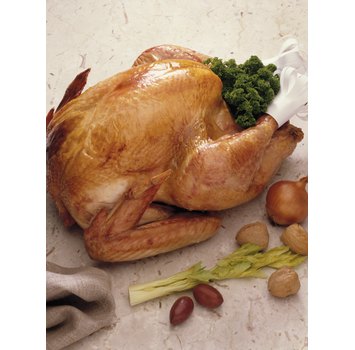 Meat is typically the most costly part of the meal. If a turkey is a must-have for your Thanksgiving dinner, Laura Cipullo, a registered dietitian and nutritionist, suggests preparing a smaller bird or passing on other proteins.
"Skip the sausage," Cipullo recommends. "And make a vegetarian stuffing." Use rice or bread to set up the stuffing.
Andrea Correale, president of New York-based Elegant Affairs Caterers, agrees, adding that you might also consider nixing the sage, a common stuffing ingredient. Sausage and sage will "jack the price up," Correale says. "And everyone loves a good, basic bread stuffing."
You should also feel comfortable making substitutes. Food Network host Sandra Lee says to replace cranberries with raisins and trade pecans for walnuts when making your stuffing.
"Walnuts are 36 percent cheaper than pecans per pound and dried cranberries are $1.32 versus 48 cents for raisins," Lee says.
There are substitutions in your turkey prep, too. Take olive oil, which can moisten and flavor your bird in lieu of butter.
"Olive oil is 26 percent cheaper than butter," Cipullo says. "If you add your own olive oil to a pump canister, the small amount of olive oil will cover an even greater surface area and save you even more money."
Despite Thanksgiving's "Turkey Day" moniker, other meats could better serve your needs. Nutritionist and eating strategist Rania Batayneh suggests roasted chicken, pork roast or beef stew as alternatives. Not only are they typically cheaper, but they can be even more succulent, what with the risk of dried out turkey annually running amok of kitchens nationwide.
Meatless dishes can equally capture the season's flavors, and might afford more wiggle room with your budget.
"An eggplant parmesan is a warm entrée dish that everyone will enjoy," Batayneh says. "You can also serve this with veggie patch spinach nuggets or broccoli bites for a warm side dish that is hearty."
For other sides, Correale recommends serving up potatoes, corn, peas and carrots, which "tend to be less expensive than (other) root vegetables and asparagus."
Versatile Cooking
As you plan and even begin to cook your meal, consider the versatility of other dishes you're making, even days leading up to Thanksgiving. Whether you call them "leftovers" or "scraps," the idea is to repurpose foods to elevate the taste of other plates.
"Save your excess grease and fat from cooked meats and add them to veggie dishes or stocks," Vaughn says. "This reduces waste, kicks up the flavor of other dishes, and cuts down on the need to buy other ingredients to up the flavor."
Likewise, rich flavors arrive inexpensively with homemade broths for soups and gravy. Simply use juice from the turkey, giblets or neck and spice up your own concoction. Toss in some leftover veggies for a savory vegetable soup.
Of course, if you're hosting a group, you can share both the burden and the bounty by proposing a potluck.
"As a college student and a plane ride away from family, we celebrated Thanksgiving with our friends," Cipullo said. "Everyone was assigned a Thanksgiving dish, drink or dessert. The cost was shared by everyone as was the holiday spirit of being thankful for friends."
Photo Credit Ryan McVay/Photodisc/Getty Images Jupiterimages/Comstock/Getty Images Ablestock.com/AbleStock.com/Getty Images
Promoted By Zergnet