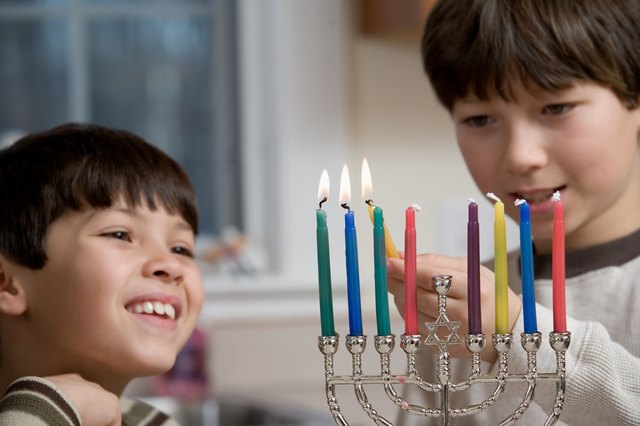 For a kid's party, I would always have an arts and crafts project. If you have kids make something that your family can use, like a menorah or a dreidel, then it becomes more special.

— Rachel Leah Cohen of Craig 'N Co
Hanukkah wouldn't be Hanukkah without a big, kid-friendly bash. You can entice youngsters and those not so young with a Hanukkah-themed carnival, complete with trivia games, favors and prizes such as dreidels, the special four-sided top used in a gambling game, stuffed with Hanukkah gelt, the gold foil-covered milk chocolate pieces that have become a part of the holiday. Play CDs of traditional tunes sung during the eight-day-long celebration. The main thing is to have food and activities that make the kids feel they're playing an important part in the celebration, which commemorates the rededication of the temple after the successful revolt of the Jews over the Syrians.
Food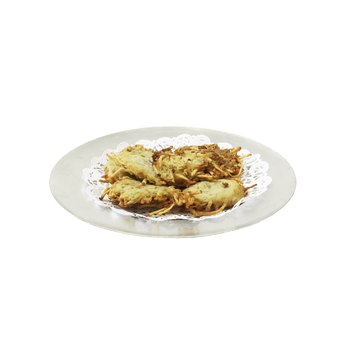 Traditional foods accompany most Jewish holiday celebrations, and Hanukkah is no exception. There are some easy foods the kids can help make. Dvonye Korf, co-director of the Chabad of Greater Los Feliz community center in Los Angeles, California, said she makes latkes every night with the kids. Latkes are fried potato pancakes, usually eaten with sour cream or applesauce.
"If it's a quiet night at home, we all gather in the kitchen, and they get to help with the peeling and preparing the batter," Korf said.
Korf's family also makes doughnuts for Hanukkah.
"Making doughnuts is always so much fun," Korf says. "Kids get to put whatever they like inside. Kids can glaze the donuts with sugar or add sprinkles on top. It's one of the highlights of the holiday for kids."
You don't have to be Martha Stewart to make good doughnuts at home. Store-bought frozen dough can produce doughnuts with a homespun taste.
"Use 'fake it-don't make it' recipes," wrote Chava Leiba Sneiderman in an article on Chabad.org. "Buy frozen challah dough from the freezer section of the supermarket. Let the dough defrost and rise. Then pinch off little balls of dough and fry them in hot oil."
Activities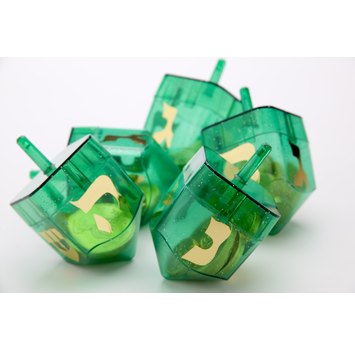 For activities, Korf suggested an olive press demonstration.
"The kids get to use an olive press machine that spins the olives and brings out the oil," she said. "It's a great lead-in to a discussion about the story of the Hanukkah, when the oil that was found in the temple (that the Syrians under King Antiochus had destroyed) miraculously lasted for eight days when it should have only lasted for one."
Another do-it-yourself kids project is a handmade menorah. The menorahs are the nine-branch candelabra that symbolizes the miracle of the oil. A candle lit by the middle candle is added each night during Hanukkah, until, on the eighth night, all nine candles are aglow. Kids can make the menorahs out of wooden slabs and nuts and bolts, or other handy materials.
"For a kid's party, I would always have an arts and crafts project," says Rachel Leah Cohen of Craig 'N Co., a Los Angeles-based boutique record company that specializes in traditional and modern Jewish music. "If you have kids, make something that your family can use, like a menorah or a dreidel; then it becomes more special."
Several activities can be planned for a format similar to a carnival, with several activities. Each game can evoke a different part of the Hanukkah story. Korf said some favorites are pin the candle on the menorah, count the chocolate coins in a jar and hit King Antiochus in the face with a sponge.
Judy Callahan, director of B'nai Simcha Community Preschool in Arcadia, California, recommends a new spin on the ever-popular dreidel game.
"Provide a bunch of materials -- grass, clay, paper, glitter, cardboard -- and let kids decorate a dreidel using their own imagination," Callahan says. "Then ask them to compose their own easy lyrics to the classic Hanukkah song 'I Have a Little Dreidel.' Instead of the original words -- 'I have a little dreidel, I made it out of clay, and when it's dry and ready, oh, dreidel I will play '– they might sing, 'I have a little dreidel, I made it out of grass …' and so on. The kids get really into it."
Cohen said gifts and games alone don't make Hanukkah such a memorable experience for children. The story of Hanukkah also has to play a role in the party.
"Which is why one of my favorite activities for kids, especially really young kids, is paper bag play," she says. "Grab a bunch of items from around the house and put them in a brown paper bag. Read a story about Hanukkah to the kids and then ask them to act out certain scenes using the props they pull from the bag. Not only are kids creating something, but they are learning so much in the process."
Photo Credit Jupiterimages/Photos.com/Getty Images Thomas Northcut/Photodisc/Getty Images Jupiterimages/liquidlibrary/Getty Images
Promoted By Zergnet