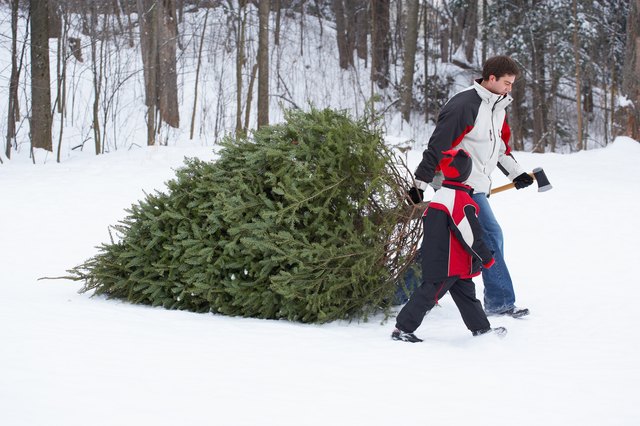 Real trees are an amazing accent, and they make a home smell beautiful.

— Sandra Espinet, featured interior designer on HGTV's "Celebrity Holiday Homes"
The Christmas tree is, quite literally, the centerpiece of Christmas for many who celebrate the holiday. But choosing the tree that best fits your family's logistical and personal tastes can be a challenge, given the seemingly unlimited options filling store windows. The key to choosing one involves figuring out how much time you have to devote to decorating, and then assessing your decorative style.
Artificial Innovations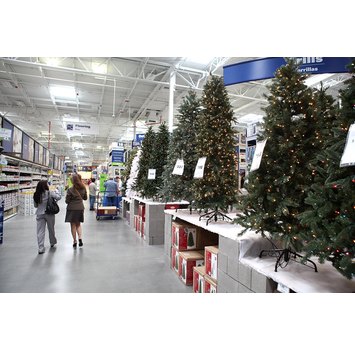 The traditional live tree, while still a prominent staple in many homes, now has stiff competition with the launch of artificial fiber-optic, LED and pre-flocked trees, as convenience and time play an ever-larger role in holiday home decorating.
Sandra Espinet, a San Jose del Cabo, Mexico-based interior designer who has appeared on HGTV's "Celebrity Holiday Homes," suggests that the ease of maintaining artificial and pre-lit fiber-optic trees has played a role in their gaining popularity. "Artificial trees don't make a mess or drop pines, and they come pre-lit, which saves huge amounts of setup time," she said.
Green isn't the only option anymore: Arrays of pink, white, red and even multicolor branches are now available in artificial collections, as well as pre-lit, pre-decorated trees, some with embedded sound systems spouting off festive tunes. And pre-lit trees, many featuring LED lighting that's more energy-efficient (and cool to the touch) than traditional Christmas tree lights, are another popular option, because "they're more durable and ensure more uniform light throughout your tree," according to Cathy Hobbs, owner of the interior-design and home-staging firm Design Recipes, based in Brooklyn, New York. Just be sure to buy an LED tree that's high-quality and comes with a good warranty, because when they go out, that's pretty much the end of it.
Pre-decorated trees aren't just a no-effort proposition; they're often thematic, which is a boon for many. "Christmas trees are most fun and meaningful when they involve a particular theme," said Hobbs, noting that it's a tradition in many northern European countries to decorate trees using only ornaments made entirely of straw or even hand-blown glass ornaments.
Finding a pre-decorated, low-maintenance tree customized to your tastes can simplify the chaotic rush of the holiday season; all the work is done for you, so you don't have to run around finding ornaments and trim to suit a particular theme. The key is to find good-looking ones; some pre-decorated, themed trees tend to look a bit cookie-cutter and lack personality.
The Traditional Approach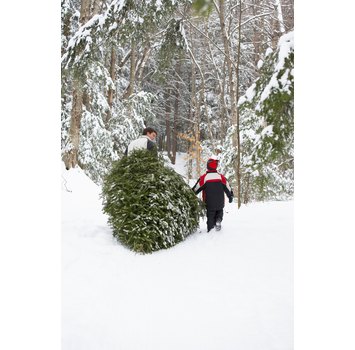 Although convenience may be a primary factor in your Christmas tree choice, live trees are still near and dear to the hearts of many families. "One of the many advantages of bringing a live tree into your home for the holidays is the fun of selecting it," Hobbs said. Among her favorites are the Scotch pine and Douglas fir.
"Scotch pine grows really well in the Northeast, so if you live in this part of the country, it is in abundance," she said. The long needles and firm branches make it an ideal setting for heavy ornaments. The Douglas fir, meanwhile, typically boasts a traditional shape and aromatic fragrance, and the plethora of sizes also offers variety for homeowners with challenging ceiling heights. The scent of a Douglas fir often defines the smell of Christmas for many traditionalists, too.
However, these trees can cause havoc for sufferers of seasonal or outdoor allergies. "Natural trees are a great accent to your home, because they give your house a great seasonal scent during the holidays," said Feyisola Ogunfemi, founder of Statuesque Events in Springfield, New Jersey. "You may want to reconsider, though, if anyone in your home or someone who may be a guest on Christmas is allergic to plants and trees."
Another downside to live trees involves the maintenance requirements and potential fire hazard. Live trees must be watered regularly, and lights should be checked daily to ensure they are at a controlled temperature. In addition, the weight of a live tree requires careful setup with multiple people to ensure it is balanced and sturdy. But with the added maintenance, Espinet said that the ambiance of a live tree is often the draw. "Nothing can compare to a real tree," she said. "Real trees are an amazing accent, and they make a home smell beautiful."
Photo Credit Jupiterimages/Photos.com/Getty Images Justin Sullivan/Getty Images News/Getty Images
Promoted By Zergnet