Nothing is quicker or easier than filling bowls and trays with pine cones, nuts or fresh apples – whatever is easy and readily accessible.

— Gina Samarotto, the Samarotto Design Group
Whether you are a rookie or a veteran at hosting Thanksgiving, making the most of space and seating while doting over décor can send even the most organized planner into a frenzy.
You don't have to be a professional interior designer, however, to whip up elegant centerpieces and table arrangements. "Let your imagination and color scheme rule for a simple, elegant and seasonally perfect result," said Gina Samarotto of the Samarotto Design Group of Poughkeepsie, New York.
With the help of fresh flowers and just-harvested vegetables from the garden, holiday planning can be simple and elegant at the same time.
Making the Most of Seating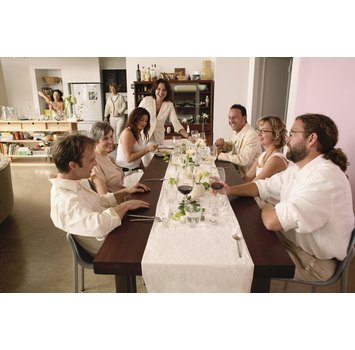 Even though your dining room table serves the family well, if you are expecting a large number of guests for Thanksgiving — and having them hold their plates on their laps is not an option — an emphasis on space management is required.
"If your living room is twice the size of your dining room, re-purposing for the day is a way to expand your space," said Samarotto, who suggests renting tables or folded chairs covered with matching linens from a local party rental store to boost seating for the day's feast. "If you have the room, you may even want to stash your dining room table and chairs in the garage and rent round tables and chairs to set up in multiple rooms," she said. Add matching linens and centerpieces, and your home becomes an elegant setting for entertaining.
If renting tables and chairs is not within the budget, consider adding a folding table to your existing dining room table, covered with matching linens to disguise the addition. Mirror the table you already have to increase your seating, said April Force, designer at AFP Interiors in Baltimore and Washington, D.C. "If your table is square or rectangular, line up more long tables next to your current table and cover with the same color cloths to create one grand table," she said.
Wooden folding chairs or dining room chairs can be dressed up, too, with wide ribbon and bows to add an elegant touch, Force said. "Add seasonal décor elements to the ribbon to dress it up even more, such as springs of wheat, leaves or mini wreaths."
Staggering the center of the party will also help with congestion in your home, said Samarotto. "If you have the room, move your guests around," she said. "Serve appetizers in the family room and then move guests to the dining room for dinner. Especially if you're a bit crowded, let guests move around to give them a chance to stretch and less opportunity to feel cramped."
Get Creative With Décor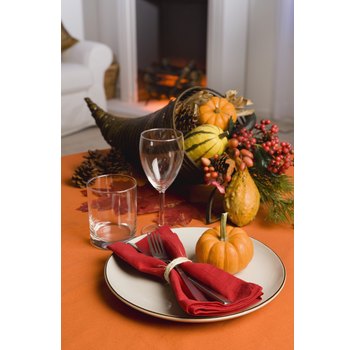 Dressing up your table for a family feast involves a little creativity and a lot of nature, according to designer NataLee Callahan. The HGTV Design Star alumna, recommends using the bounty of the harvest to decorate Thanksgiving tables, noting that apples, ornamental pumpkins and artichokes may be used as holders for candles to add sparkle and ambiance.
Other elements of the outdoors carefully gathered and displayed subtly extend the theme. "Clip branches from trees, as well as evergreen and autumn leaves, and lay them on the table, mixing them together," Callahan suggests. "You can keep this a little on the flatter side so you can actually place the food on top of the foliage."
A themed table centerpiece ideal for Thanksgiving is the gratitude tree. "Take more branches and place them in a very tall clear vase creating a tree," Callahan recommends. "Tie ribbons on the branches and attach butterfly clips to the end of the ribbons with autumn-toned paper leaves for people to write what they're grateful for."
No room for a centerpiece? Samarotto recommends tucking a single bloom or leaf into each guest's napkin. "One stunning piece can make a huge impact," she said. "Place a single votive in a glass holder at each place setting and you've created a gorgeous table without using much table space."
You can also get creative with placements. Samarotto recommends writing each guest's name on store-bought paper leaves and attaching the name tag to the stem of a pumpkin, apple or pear.
Overall, she recommends keeping the décor simple. "Nothing is quicker or easier than filling bowls and trays with pine cones, nuts or fresh apples – whatever is easy and readily accessible."
While applying the finishing touches to your décor and your meal, place a few stems of fresh flowers in the powder room, light a few candles and set out a beautifully garnished tray of hors d'oeuvres. "These are all things you can do in advance and all things that push your holiday entertaining to a luxe level," said Samarotto.
Photo Credit Jupiterimages/Photos.com/Getty Images Jupiterimages/Brand X Pictures/Getty Images Thinkstock Images/Comstock/Getty Images
Promoted By Zergnet