If you tell me what barbecue you eat or what sauce you put on it, I could probably make a guess about where you're from.

— Jim Auchmutey, author and former newspaper reporter
Barbecue, a staple at tailgating parties, is a kaleidoscope of flavors and textures. There are as many variations between 'cue in different regions of the country as there are between accents and politics.
The diversity within a region can be equally dramatic. Take the South, for example. Texans prefer beef to pork on the grill, while in some parts of North Carolina, the sauce is mostly vinegar with nary a tomato to be found.
What about the so-called Deep South? There are no absolutes -- ingredients and techniques are adopted and adapted across state lines -- but trends distinguish a sauce made in Georgia from another prepared in neighboring South Carolina.
Experts point out that the choice of meat and the composition of the sauce contribute to the distinctive nature of Southern barbecue. To a lesser extent, the wood used in the grill can identify in what part of the region it was cooked.
"If you tell me what barbecue you eat or what sauce you put on it, I could probably make a guess about where you're from," said Jim Auchmutey, a former newspaper reporter and the author of numerous books on food.
So whether you're preparing barbecue to take to a football stadium or to serve to the family at home, your recipe can say a lot about where you grew up or where you currently live.
The Sauce
The typical Deep South barbecue sauce is defined by such ingredients as tomato (or ketchup); vinegar; some kind of sweetener such as molasses, brown sugar or regular sugar; and something acidic, usually cider vinegar. After that, the chef "goes to town with a secret blend of seasonings," said author Susan Puckett, a former colleague of Auchmutey's at "The Atlanta Journal-Constitution." Those seasonings can include onion, garlic, chili powder, Tabasco and mustard.
One variation originated in Memphis, Tennessee. Instead of liquid sauce, pork ribs there are often prepared with a dry rub -- a spicy mixture of chili, paprika, sugar, garlic powder and other seasonings. The seasonings are often basted in vinegar then shrouded in secrecy.
"Everybody has their secret rubs," said Puckett, who is writing a book called "Food Drink the Mississippi Delta: An Edible Road Trip Through the Most Southern Place on Earth."
Sometimes this dry rub is covered with a more traditional barbecue sauce, a presentation referred to as "wet."
"You're often asked if you want your ribs dry or wet," she said.
Memphis is home to "Memphis in May," an annual international festival of music, food and art. It includes the World Championship Barbecue Cooking Contest, which draws contestants from around the globe.
"They [people in Memphis] take it very, very seriously," said Puckett.
The Meat and the Wood
Pork is the preferred barbecue meat in the Deep South. Though it is usually pulled pork from the shoulder or pork ribs, any kind of pork is highly popular among Southern barbecue cooks. Not only is pork generally less expensive than beef, pigs are very common in the area. Pigs were brought in by the Spanish in the 1500s and have flourished ever since, said Auchmutey, who is working on a book titled "Illustrated History of Barbecue" for the Atlanta History Center.
Texas, by contrast, is cattle country. Beef is king there, with beef brisket the most common form of barbecue. But, even in Texas, Auchmutey said they're going to have a lot of pork.
Chicken is another favored meat for barbecue, Puckett said, far more than turkey. Barbecued sausage is a favorite in Memphis.
Several types of hardwood are traditionally used in the grill. Auchmutey noted hickory and oak, while Puckett threw in apple wood. The addition of mesquite makes the smoke in Texas distinctive. Commercially prepared charcoal also is used, often with wood chips soaked in water to produce the flavorful smoke that is so important to true barbecue.
Variations on a Theme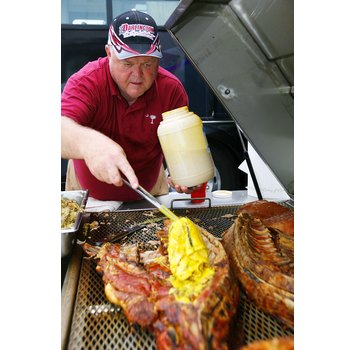 Southern barbecue variations are nearly endless and often are localized.
In Decatur, Alabama, for example, a white barbecue sauce made with mayonnaise and a lot of pepper is served, usually on chicken. Parts of eastern Georgia take a cue from eastern North Carolina, using a sauce with no tomato that's mainly vinegar with salt, black pepper and red pepper.
The vinegar sauce, Auchmutey said, is probably similar to the earliest barbecue sauces made in North Carolina and Virginia, dating back to the 1700s.
That localization and diversity, he said, is similar to the variety of cheeses made in Europe. "Barbecue is probably the closest thing in America to what cheese is like in Italy or France," he said.
What's consistent is the seriousness with which true fans take their barbecue. They don't like to hear "barbecue" used to refer to the simple act of throwing a piece of meat on a grill. True barbecuing, said Auchmutey, involves hours of slow cooking over indirect heat.
"Most places, if [people] say 'barbecuing,' they're really grilling," Puckett agreed. "In the South, they're really two distinct things."
Photo Credit Sean Gallup/Getty Images News/Getty Images Mike Brown/Getty Images News/Getty Images Tom Pennington/Getty Images Sport/Getty Images Rusty Jarrett/Getty Images Sport/Getty Images
Promoted By Zergnet