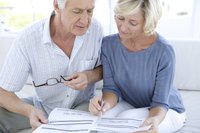 Senior citizens on a fixed income may become property rich and cash poor. Homeowners at least 62 years old with a primary residence of one to four units can tap into their equity to supplement income and cover expenses. A home equity conversion mortgage, or HECM, is commonly known as a reverse mortgage. HECMS are insured by the Federal Housing Administration, or FHA.
HECM Amounts and Payments
Your home's appraised value and your current mortgage debt affect your HECM loan amount. HECM fees include a lender's loan origination fee and the FHA mortgage insurance premium. The lender may pay you in a lump sum, through a line of credit, monthly installment payments or a combination of these. Interest accrues on the outstanding balance, which increases your debt over time.
Getting a HECM
A mandatory session with a HECM counselor explains the conditions of the reverse mortgage. You maintain title to your home, you can sell at any time and pocket what's left after paying off the HECM loan. A HECM loan also becomes due when you die, move or don't live in the home for 12 consecutive months. Lenders may require you to pay off the HECM if you fail to pay your property taxes and homeowners insurance.