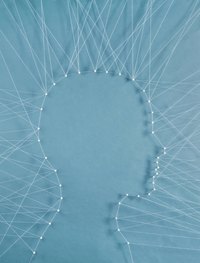 In psychology, case conceptualization or case formulation describes the process of taking interview data from a patient to create a model describing the patient's symptoms and determine a plan of action for treatment. Multiple forms of case conceptualization exist, each using different models to describe how information from the patient is organized and interpreted.
The Four P's
One of the simpler methods of case conceptualization is the "four P's" method, which organizes information from the patient into four categories: predisposing, precipitating, perpetuating and protective factors. The information gained from the interview is placed in these categories to understand the patient's current situation. For example, a patient's low self-confidence might be related to the predisposing factor of an overly critical home life together with the perpetuating factor of continued internal self-criticism, leading him to avoid conflict and opportunities for self-advancement -- a protective factor.
Constructing a Treatment Plan
With the information organized, the psychologist can now construct a model of how the patient's symptoms operate and can begin to create direction for treatment. More complex models of case conceptualization use different base categories than the four P's and/or add additional categories to create more specific and detailed models of a patient's thoughts and behavior.