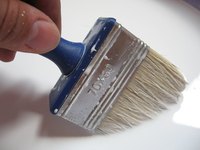 The American National Standards Institute (ANSI) is the administrator and coordinator of the system of voluntary product standardization in the U.S. Founded in 1918, the nonprofit company establishes production and conformance standards in a variety of industries from food processing to construction. The institute also sets the specifications and test methods for residential and commercial paints and varnishes in collaboration with the International Standards Organization (ISO).
Specifications
ANSI classifies paint and varnishes according to factors such as chemical composition, corrosive properties, hazard potential and reflective haze. These specifications provide paint vendors with the information required for the appropriate purchase and applications of paint and varnishes. In addition, the specifications ensure product consistency during the manufacturing process.
Test Methods
The ANSI standards provide guidance for test methods to ensure that paints and varnishes are manufactured according to specification. Test methods include analysis for oxidation levels, temperature management and surface suitability.
Certification
ANSI certification is available for products, businesses and personnel. The process includes a comprehensive application and on-site review as well as continuing education. ANSI-approved entities can use the "Approved American National Standard" logo on products and literature.