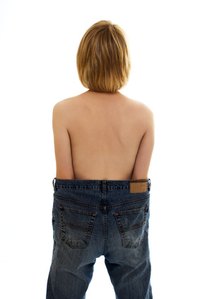 Pants with a high waist can slim anyone down with the right fit and fabric. Try a thin cotton fabric instead of a heavy denim that could add inches to the waist. While the pants hug all the curves, a well-fit shirt or blouse is the key to this look.
Snug Tops
A body forming, button down shirt, tucked inside the high-waist pants is a great look. Runways show snug tops with both the narrow leg and boot-cut leg pants. The baby doll or empire style shirts don't work well with these trousers.
Tops For Warm Weather
A pair of high-waist jeans and a summer top go well together. Look for a light-weight jean fabric and keep the top plain. Too much print or fuss on the top will duel with the high waist bottom. When the evening cools down, choose a short-cropped jean jacket or sweater. The key is to keep all the layers hugging the body, to accentuate the waist.

Flattering For All Figures
Some fashion gurus believe a high-waist pant is terrific for slender women and for women who don't have a flat tummy. A well-fitted pant with a tucked in shirt, can cinch in the waist and hips, giving the wearer a leaner look.