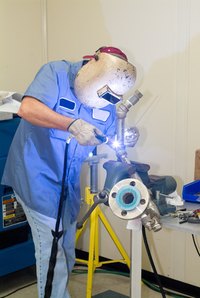 Argon is a colorless, odorless gas classified by the Occupational Safety and Health Administration (OSHA) as a simple asphyxiant, which can produce hazardous fumes and gases. High concentrations of argon gas may cause an oxygen deficiency in the environment, leading to suffocation.
Overexposure
Short-term overexposure to fumes may result in dizziness, nausea, dryness or irritation of the nose, throat and eyes. Severe overexposure may cause watery eyes, frequent coughing, vomiting, an increase in breathing and pulse rate, chest pain, loss of consciousness, convulsions and respiratory collapse.
Inhalation
Inhaling argon gas in oxygen deficient atmospheres may cause ringing in the ears, headaches, shortness of breath, fatigue, wheezing, dizziness, indigestion, lack of muscle coordination and respiratory difficulties. Skin tone may have a blue hue. Air contaminants may accumulate in the lungs over periods of extended inhalation.
Prevention
When welding with argon gas, use adequate ventilation, preferably local exhaust ventilation. Install automatic oxygen monitors to detect oxygen levels. Oxygen levels should be maintained above 19.5 percent, to limit overexposure. Wear personal protective clothing including welding gloves, a helmet with a face shield and a filter lens. Pay close attention to any signs of fatigue or dizziness. Victims of overexposure must receive fresh air or artificial respiration and seek medical attention immediately.