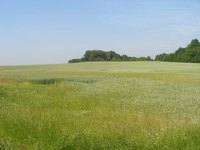 There are many interesting facts about the tiny state of Delaware. Its historical past contains many notable firsts among the states and it has many unusual geographical features.
Geographical Facts
Delaware ranks 49th in size among the states with 1,982 square miles; the 35 mile long state's width varies from nine to 35 miles. Delaware has three counties and is the only state without a national park. Its average altitude of 60 feet above sea level is the lowest in the United States.
Firsts
Delaware was the first state to ratify the U.S. Constitution in 1787. Delaware's delegate, John Dickinson didn't sign his own name to the Constitution, he was absent from the meeting so George Read signed for him. The country's first beauty contest was held in Delaware in 1880. In 1907 Delaware was the first state to receive Christmas Seals.
Fun Facts
Delaware colony was founded as New Sweden in 1638. Its governor from 1643 to 1653, Johan Prinz, weighed 400 pounds and was nicknamed the "Big Tub." Twelve towers were built along Delaware's coast during World War II to protect it from German submarine attacks. Delaware's official state insect is the lady bug.