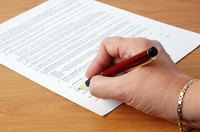 To grow, organizations seek financing from a variety of sources. Equity finance enables an organization to attract investment in exchange for an ownership stake in the business. For example, the investment can be made in exchange for shares in a company. Equity investor agreements facilitate these transactions.
Definition
An equity investor agreement enables an organization to attract capital from an investor in exchange for equity in the organization. For example, a corporation seeking to attract funds for the development of its business may issue shares (or equity) to an investor willing to invest capital in the organization.
Finance Types
An organization can finance its operations in two principal ways: equity finance and debt finance. In equity finance, the organization sells equity in return for investment. In debt finance, the organization obtains funds through loans and the issuance of bonds.
Advantages
Debt finance, such as loans, impose extra costs on the organization such as interest and penalty fees. However, equity agreements enable the organization to attract investment without any obligation to repay the investor. Depending on the organization's success, an investor usually makes a return in his investment by way of dividends.