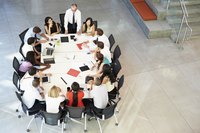 The "Merriam-Webster Dictionary" defines a mindset as "a mental attitude or inclination" or "a fixed state of mind." A business mental mindset can refer to having the right mindset for business; it can also mean having the right mindset to succeed given a changing business environment.
Business Mindset
To succeed in business, it is important to have the right mindset. Concepts as simple as remembering the reason a business exists is to make money, thinking long-term and looking for opportunities to grow and expand your business affect success.
Adaptability
According to Peter M. Senge of the Society for Organizational Learning "Studies show that Fortune 500 companies survive somewhere between 30 and 40 years." It is believed that one of the reasons for this is a failure to adapt and alter the mindset of the organization to meet changing conditions.
Altering Mindsets
As technological and geopolitical change accelerate, there is a growing interest on the part of business to learn the skill of altering the mindset of a business. This can be a difficult exercise because it requires people with extensive experience to continually relearn their jobs.