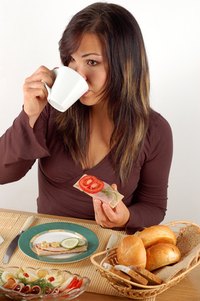 Anyone who has been forced to pinch their nose while downing a bad-tasting medicine knows that the sense of smell plays a powerful role in the sense of taste. Taste is a limited sensation, with receptors on the tongue only picking up a few specific tastes. The sense of smell contributes to the perception of taste by providing more information to add to taste.
Stimulating the Senses
Both olfactory (sense of smell) receptor cells and gustatory (sense of taste) receptor cells are known as chemoreceptors, and they are stimulated by certain molecules. The stimulation of these receptors carries a message to the brain, which produces the sensations of smell and taste.
How Does Smell Affect Taste?
Much of what humans perceive to be taste is actually the sense of smell. Gustatory receptors are responsible for detecting a limited number of conditions: sweet, sour, bitter and salty. The odor molecules picked up by the olfactory receptors fill in the rest, leading the scent of lemon to make us taste lemon and the scent of chocolate to make us taste chocolate.
The Loss of Smell and Taste
Many factors may contribute to the loss of smell, which impairs the sense of taste. Smoking, polyps, upper respiratory infections and radiation treatments are some factors that can damage the perception of smell and taste. With age, the sense of smell and taste can also be lost. People who believe they may have impaired senses of smell and taste should visit an otolayngologist, or a head/neck surgeon, for a proper diagnosis and treatment plan.