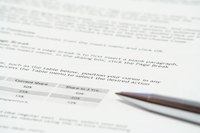 Gap analysis looks at a current status in relation to a desired status in the future. The difference between the two is the gap. Solution gap analysis is the process of comparing two or more solutions for a problem and recommending the one with the smallest gap.
Current State
The first step in performing a solution gap analysis is to list the characteristics of the present solution or problem if a solution does not exist. This may include listing what currently works as desired, what could be improved and what does not work at all.
Desired State
The next step in solution gap analysis is listing the desired characteristics of the final solution. List all the factors that must be met to reach your future objective.
Gap Analysis
The final step is to compare the current state with the desired state and list any gaps for each solution you are considering. If you are looking at more than one proposed solution, each one needs to be looked at separately. Sophisticated software tools are available to help you perform gap analysis but a spreadsheet can be used effectively to perform your analysis.