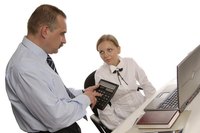 The factors of quality and the structure of an organization go hand in hand. A clearly defined organizational chart has a positive impact on quality of products and services.
Clear Expectations
Employees who have been given explicit guidelines as to what their responsibilities entail are more focused and involved with their work. Job descriptions are the number one tool as to the duties and supervision of every position.
Stronger Work Relationships
Knowledge of how the chain of command works and who to consult regarding workplace issues provides an outlet and solutions for employee issues. This makes for less friction and happier, well-adjusted employees resulting in higher quality and productivity.
Accountability
A strong organizational structure makes specific individuals accountabie for the end results. This accountability provides employees with a sense of pride in their work and of satisfaction when their part of the organization runs smoothly and efficiently. On the flip side, when there are problems or a slowdown in productivity, it is clear where the fault lies and improvement needed.